The Fully Funded Centre for Human Rights Internship in Indonesia is a paid opportunity for international students at the University of Jember, Indonesia. The duration of the internship is a minimum of 1 month and a maximum of 12 months. CHRM2 Internship will rewarding work experience, free accommodation, a monthly living stipend, and cultural experience.
Their vision is to boost the strength of the University of Jember to become a leading, global university centered in Southeast Asia. Through rigorous research and collaboration, their center attempts to transform the way they think of acquiring knowledge in this rapidly globalizing world; a knowledge that meets the ideals of justice and the standards of human rights.
Fully Funded Centre For Human Rights Internship in Indonesia 2024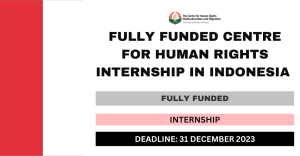 DEADLINE
31 December 2023
PROVIDER
Centre For Human Rights Multiculturalism And Migration
STUDY LEVEL
Internship, Training
SUBJECTS
Subjects offered by the university
FUNDING TYPE
Fully Funded Scholarships
Scholarship Eligibility
The eligibility criteria for the Fully Funded Centre for Human Rights Internship in Indonesia are:
1. Required Languages: You Must be a native English speaker. Fluency in English (should provide evidence of English writing skills. TOEFL/IELTS scores are not required but can be a means of proof). Indonesian language is not required but is a plus (opportunities for language classes at the University of Jember).
2. Eligible Countries: All world countries
3. Undergraduate or master's degree (or work equivalent).
4. Academic or work history demonstrating interest in human rights, multiculturalism, and/or migration.
5. Commitment & Leadership.
6. Initiative & Flexibility.
READ ALSO: SKYLINE UNIVERSITY NIGERIA POST-UTME SCREENING
Scholarship Benefits
The benefits of the Fully Funded Centre for Human Rights Internship in Indonesia are:
1. Rewarding work experience.
2. Free accommodation.
3. Aid in arranging visas.
4. Monthly living stipend.
5. City bicycle for local transportation.
6. Cultural experiences (weekend trips around East Java, Indonesia).
Others
Please follow the following application instructions to win a Volunteer or Internship Opportunity in Indonesia with CHRM2:
Prepare the required documents:

CV or Resume
A short Personal Statement (written in English, Maximum 500 words), Should reflect your desire to volunteer at CHRM2 and your position's interest
Proof of English Language Proficiency for non-native Speakers (Official test scores or short writing sample).
Additional materials may be submitted but not required.

Send your completed application to the CHRM2 email at chrm2@unej.ac.id.
Note: When you send them an email to either ask a question or submit your application, write the following subject line:
Application Subject line: Get Involved_ Name
Questions subject line: Position Inquiry _ Name
I hope you find this article helpful.