The Fully Funded Chang Gung University Scholarship in Taiwan is open for international candidates. It allows you to enroll for the Chang Gung University Scholarship in Taiwan in Spring 2024 in the required field. The university is offering admissions in Masters and Doctoral programs. At the master level, it also offers an MS/MPhil program.
Master's and doctoral programs offer students the opportunity to delve deeply into a specific subject area. This advanced specialization allows students to gain in-depth knowledge, expertise, and skills in their chosen field, preparing them for leadership roles and specialized careers. Doctoral programs, in particular, emphasize original research and contribute to the generation of new knowledge. The research conducted by doctoral students can lead to breakthroughs, advancements, and innovations in various domains, benefiting society as a whole.
Fully Funded Chang Gung University Scholarship In Taiwan 2024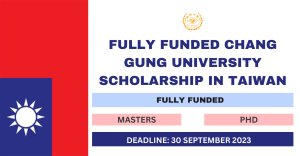 DEADLINE
30 September 2023
PROVIDER
Chang Gung University
STUDY LEVEL
Masters, PhD, Postgraduate
SUBJECTS
Subjects offered by the university
FUNDING TYPE
Fully Funded Scholarships
Scholarship Eligibility
The eligibility criteria for the Fully Funded Chang Gung University Scholarship in Taiwan are stated below:
1. Candidates must fill out their application completely and precisely, as well as submit all required application materials.
2. Applicants having a bachelor's degree or above are eligible to apply for Master's Degree programs.
3. Master's degree holders can apply for Ph.D./Doctoral Degree programs.
4. International students from any country other than Taiwan must apply.
5. Applicants must be mentally and physically healthy.
6. Applicants may not hold more than one scholarship at the same time.
Scholarship Benefits
The benefits of the Fully Funded Chang Gung University Scholarship in Taiwan are:
1. Candidates at the Master's level will be offered University Tuition Fee Waivers and Living Expenses of TWD$ 8,000 per month. Advisors will also provide assistantships to master's students for research work.
2. Applicants at the Ph.D. level Tuition fee waivers will be granted. Living expenditures TWD$ 12,000 per month Monthly stipend of NT$29,000 (US$966) Ph.D. students will also receive research assistance from their supervisor.
RECOMMENDED: MICHIGAN UNIVERSITY SCHOLARSHIPS USA
Others
Documents Required:
The following documents are required for Chang Gung University Scholarship in Taiwan Spring 2024:
1. A valid CV
2. Professional certificates if any.
3. The individual must possess all necessary attributes
4. A structured cover letter
5. A valid passport
6. Study plan
7. Two Recommendation letters
8. English Proficiency certificate
9. Academic thesis
I hope you find this article helpful.