The MTN HyNetFlex is a 4G Router for Individuals and Businesses. MTN HyNetFlex is Super Fast even in areas where MTN Network isn't so strong. You can connect the MTN HyNetFlex to Many Phones and Computers Using Wifi or Cables.
Despite the Speed, Features and Beautiful Design of the MTN HyNetFlex, the Battery struggles to last up to an Hour. The MTN router doesn't come with a USB Charger Or a Type-C Pin.
You won't enjoy the MTN Router in areas where power supply is poor. In fact, the router will shut down in the middle of your job, downloads or uploads. However, there is good news for you.
The good news is that I have found a way you can charge your MTN Hynetflex with a power bank so that you can enjoy the router.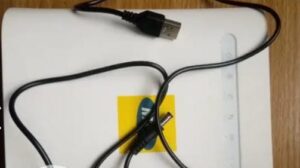 How To Charge MTN Router With USB
To charge the MTN HyNetflex using USB Ports or Power Banks, you will need a USB Male to DC Power Cable.
The USB to Power cable is sometimes difficult to find. I will teach you how to create a USB to DC Power cable and use it to charge your MTN Router using a Power bank, Charger head or Laptop USB Port.
Therefore, charge MTN Hynetflex with Power Bank or USB Ports using the steps below: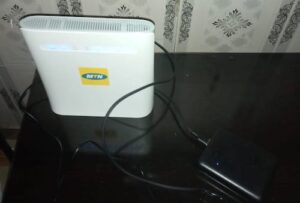 Cut an MTN Router Charger
Cut a USB Cord
Join The USB Cord to the Router Charger
Plug the UBS Port to Power Bank
Plug the MTN Hynet Flex
Done
Note: Don't wait for the router battery to be down before plugging it to power. You can plug it immediately power supply is off. The router won't consume much of your power bank battery.
If you connect it and it doesn't work, reverse the connection. Example, if you joined black wire to white wire and red wire to blue wire depending on the color of your cords, reverse the connection.
The MTN router is dual-band, it supports both 2.4 GHz and 5.0 GHz frequencies. The 5.0 GHz band is faster than 2.4 GHz frequency. However, many devices don't support 5.0GHz range and speed.
I hope you were able to charge MTN Hynetflex using your power bank? Feel free to let me know how you feel and don't fail to share this update with your friends using the share buttons.
5 Reasons To Buy MTN HyNetflex
High-speed internet

Instant 120GB data bonus

100% bonus on every data bundle for 3 months

Connects up to 64 users simultaneously

Flexible options of payment e.g. Recharge PIN, VTU, POS, online, or USSD/SMS code.
Disclaimer: The Information on this page is not official and I'm not responsible for any damage to your MTN Router. In some cases, your battery will not charge. However, the power bank will provide enough power to keep the MTN Router ON and working.