The College of Nursing Sciences in Maiduguri is a well-respected institution with a rich tradition of excellence in the field of nursing education. As a continuation of this commitment to academic and professional excellence, the college has released the schedule for the upcoming entrance aptitude examination. This information is vital for all prospective students and the general public who are keen to be updated about the college's admission processes.
College Of Nursing Sciences Maiduguri Entrance Exam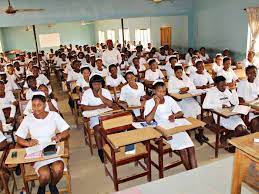 | | |
| --- | --- |
| 🏫 Institution | College of Nursing Sciences, Maiduguri |
| 📅 Exam Date | Saturday, 14th October, 2023 |
| ⏰ Time | 7:00am Prompt |
| 📍 Venue | College of Nursing Sciences, Maiduguri |
| 🎓 Intended Audience | Prospective students and the general public |
| 📣 Announcement | 2023 entrance aptitude examination |
| 🖊️ Reminder | Please be informed |
| 🗂️ Academic Session | 2023/2024 |
Key Details for the Entrance Examination
Date of Examination
The entrance aptitude examination for the 2023/2024 academic session is slated for Saturday, 14th October 2023. This date has been thoughtfully chosen to allow prospective students ample time to prepare and ensure they can make the necessary travel and logistical arrangements.
READ ALSO: GVU POST-UTME SCREENING FORM
Time of Examination
Punctuality is of the essence. The examination is scheduled to commence at 7:00am prompt. It's imperative for all candidates to arrive well in advance, ensuring they are relaxed and well-prepared to take the examination. Being punctual will also allow time for necessary administrative and identification processes.
Venue for the Examination
The examination will be conducted at the College of Nursing Sciences, Maiduguri itself. This venue provides the perfect environment for a focused and distraction-free examination experience. It is advisable for candidates unfamiliar with the location to familiarize themselves with the route and travel requirements ahead of the examination day.
In summary, it's essential for all aspirants to heed this announcement and make the necessary preparations. The entrance aptitude examination is a significant step towards gaining admission into the College of Nursing Sciences, Maiduguri. Achieving a good performance is not only a testament to one's academic prowess but also a reflection of dedication, preparation, and commitment to the nursing profession.
To the students aiming for a spot in the 2023/2024 academic session, the path to your dream starts with this examination. Equip yourselves with all the necessary study materials, engage in dedicated preparation, and approach the exam with confidence.
For further information or inquiries, you are encouraged to reach out to the college's administrative offices.
We wish every candidate the very best of luck and look forward to welcoming a new batch of dedicated nursing professionals to our esteemed institution.
I hope you find this article helpful.