When someone is sick or injured, a doctor may prescribe them medication to treat their symptoms. When they go into the pharmacy to have their prescription filled, they are likely to interact with a pharmacy technician—or pharmacy tech—whose responsibilities include ensuring customers receive their prescriptions quickly and accurately. If you're interested in working at a pharmacy, it's important to consider whether this position fits your career goals. In this article, we discuss what a pharmacy tech does and explore the pros and cons of being one to help you decide if this role is for you.
What does a pharmacy tech do?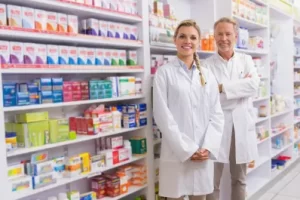 A pharmacy tech works in a pharmacy, helping the pharmacist get medication to customers. Some pharmacy techs work in hospitals or clinics, but the majority work in a retail pharmacy setting, such as the pharmacies found inside stores or supermarkets. Pharmacy techs work with medication and regularly interact directly with customers. Their duties include:
Sorting pills

Filling prescriptions

Labeling prescription bottles

Bringing medication to customers and collecting payment

Answering questions from customers

Entering data into a computer

Filing insurance claims

Communicating with customers, medical offices, and insurance companies via telephone
5 pros of being a pharmacy tech
There are many advantages of working as a pharmacy tech. Here are five positive aspects of this job:
1. Reliable job growth
There's significant room for growth in a career as a pharmacy tech. The Bureau of Labor Statistics predicts a 4% growth rate for this industry between 2020 and 2030. Many pharmacy techs also advance to roles in pharmacy management or even get the necessary education to become licensed pharmacists. Some may even explore related careers, such as pharmaceutical sales, medical equipment, or medical technology.
2. Flexible work environment
Although more than half of all pharmacy techs work in retail pharmacies, you have the flexibility to work in locations like a hospital, nursing home, clinic, alternative pharmacy, veterinary facility, mail-order pharmacy and more. There's also some flexibility in hours, with many pharmacy techs choosing to work just part-time or on weekends and evenings. You can usually make the schedule work with your other interests and commitments.
3. Well suited for entry-level professionals
If you're looking for a job that doesn't require a college education, working as a pharmacy tech might be a good career option. Many people can become pharmacy techs with just a high school diploma or GED. However, there's some necessary training, and some states require licensure. Most techs choose to pursue the Certified Pharmacy Technician certification offered by the Pharmacy Technician Certification Board because this can help them get better jobs and earn higher pay. People can complete training in as little as six to eight months.
Please note that none of the companies mentioned in this article are affiliated with Indeed.
4. Rewarding work
One thing that many people in the medical profession enjoy about their jobs is the ability to help people who are sick or injured. When someone comes in to pick up a prescription, it's an important step in their wellness journey. Pharmacy techs get to help people on their way to recovery, and this can be very rewarding. If the prescription is a long-term one, you may even notice an improvement in people when they return for refills, which can be very satisfying to see.
5. Socially active role
If you like the social aspect of working with people, then being a pharmacy tech may suit you. Besides working as part of a medical team that includes pharmacists, other pharmacy techs, and sometimes doctors and nurses, you have regular contact with customers and patients. Many customers can be friendly and talkative, and you may form friendships with your coworkers. If you enjoy being around people and collaborating as a team, you might enjoy this work.
4 cons of being a pharmacy tech
Although working as a pharmacy technician can be rewarding and enjoyable work, here are four challenges to consider before deciding to pursue this career:
1. Repetitive work
Often, pharmacy technicians perform the same job duties with little change. They fill prescriptions, enter data, help customers, and answer phone calls. While there can be considerable variation in the customers who come into the pharmacy, there's much less variety in the type of work that pharmacy techs do. For some, this can become monotonous over the long term, though others may not mind the repetition.
2. Occasionally challenging customer interactions
As a pharmacy tech, you may experience distressed customers. Many people who come into the pharmacy for a prescription are sick and not feeling well, which can sometimes cause them to be irritable. Additionally, some customers might discover that their insurance doesn't cover their prescriptions, that the prescription isn't ready when they expected it to be, or that it costs more than they thought. This can make them upset. If dealing with upset customers is something you wouldn't be comfortable with, you might not enjoy working as a pharmacy tech.
3. Need for regular recertification
Although some entry-level pharmacy techs don't earn certification, most choose to earn this distinction. While this can positively impact their careers, certified pharmacy techs need to take a recertification exam every two years. This is because new medications are always being developed, so it's important for a pharmacy tech to stay aware of the latest pharmaceutical developments. To become recertified, pharmacy techs must pay a fee, which their employer might not cover. So, it's important to consider the cost of recertification when deciding whether this job is right for you.
4. Stressful work environment
Working as a pharmacy tech can be quite stressful. The pharmacy can become very busy and sometimes handle large quantities of customers in a fast-paced environment. There's also considerable pressure to fill and label each prescription accurately because errors with medication can cause people to have allergic reactions, get sicker or experience other health risks. A pharmacist tech handles many tasks at once, including keeping up with billing, paperwork, and organization of the pharmacy.
This work can also be physically exhausting. Many pharmacies stay open late, so pharmacy techs may work very long hours—sometimes even overnight—almost entirely on their feet. They may also need to move boxes or supplies.
I hope you fidn this article helpful.