This is to inform the general public and prospective students of Crescent University Abeokuta that the school management has reopened the 2023/2024 Crescent University Post UTME registration portal.
Crescent University, Abeokuta, a private institution established by the Islamic Mission for Africa, aims to deliver quality education while fostering discipline, and integrity, and promoting positive societal values. To address the gap in Nigeria's educational system, the university seeks to produce graduates who align with the country's economic agenda.
Interested candidates are advised to purchase the registration form before the Crescent University Post UTME form closing date for registration. Prospective students must obtain a minimum of 180 marks in the UTME, choose Crescent University as their first choice, and participate in the screening exercise. Direct entry and transfer candidates are also welcome.
              Crescent University Abeokuta Post UTME Form 2023/2024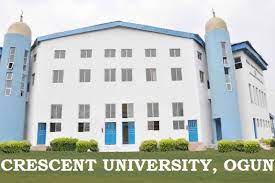 Available Undergraduate Programmes.
BOLA AJIBOLA COLLEGE OF LAW (BACOLAW) (LLB Law)
DEPARTMENT OF COMMERCIAL & PROPERTY LAW
DEPARTMENT OF JURISPRUDENCE & INTERNATIONAL LAW
*Approved by the National Universities Commission (NUC) and Council of Legal Education
COLLEGE OF INFORMATION AND COMMUNICATION TECHNOLOGY [CICOT]
DEPARTMENT OF COMPUTER SCIENCE

B.Sc. (Hons) Computer Science

DEPARTMENT OF INFORMATION AND COMMUNICATION TECHNOLOGY

B.Sc. (Hons) Information Technology
COLLEGE OF ARTS, SOCIAL AND MANAGEMENT SCIENCES [CASMAS)]
DEPARTMENT OF ACCOUNTING
DEPARTMENT OF BUSINESS AND FINANCE

B.Sc. (Hons) Business Administration

DEPARTMENT OF ECONOMICS AND ACTUARIAL SCIENCE

B.Sc. (Hons) Economics with Operations Research

DEPARTMENT OF POLITICAL SCIENCE AND INTERNATIONAL STUDIES

B.Sc (Hons) Political Science and International Studies

DEPARTMENT OF MASS COMMUNICATION

B.Sc. (Hons) Mass Communication

DEPARTMENT OF ISLAMIC STUDIES
COLLEGE OF NATURAL AND APPLIED SCIENCE [CONAS]
DEPARTMENT OF BIOLOGICAL SCIENCES

B.Sc. (Hons) Microbiology

DEPARTMENT OF CHEMICAL SCIENCES

B.Sc. (Hons) Biochemistry CENTRE FOR
COLLEGE OF ENVIRONMENTAL SCIENCES (COES)
DEPARTMENT OF ARCHITECTURE BOARD

B.Sc. (Hons) Architecture in all Accredited
COLLEGE OF HEALTH SCIENCE
DEPARTMENT OF NURSING
DEPARTMENT OF PHYSIOLOGY
DEPARTMENT OF ANATOMY
Crescent University Admission Eligibility / Requirements
UTME Candidates:
Interested candidates are expected to obtain the UTME form for that year and score a minimum of

180

 marks.
Credits at SSCE, GCE, NECO, or approved equivalent in at least 5 subjects which must include English Language and Mathematics and any other three subjects as may be specified by each Department.
The 5 credits should be obtained in not more than two sittings and must have been obtained within the last 5 years.
Candidates awaiting results may apply.
All applicants will be required to go through Crescent University's Screening Exercise without which a candidate will not be offered admission into the University.
Interested candidates who have applied to the Joint Admission and Matriculation Board (JAMB) for admission and wish to change their first choice to Crescent University are required to:

Apply for a change of institution through JAMB.
Obtain the CRESCENT UNIVERSITY, ABEOKUTA application form.
Participate in the screening exercise.

All applicants are required to obtain JAMB forms as well as Crescent University application forms before they can qualify for the Screening exercise.
Admission through JAMB will be offered to candidates who have taken Crescent University as their choice and have acceptable scores in the University Matriculation Examination (UME). In addition, such candidates will be required to obtain the University's application form and pass the oral interview that shall be conducted as a prerequisite for admission.
Direct Entry Candidates:
Candidates may be admitted through direct entry with:
NCE, OND, or approved equivalents in relevant fields and at least an Upper Credit level, in addition to the O/L requirements mentioned above.
Advanced Level passes or equivalents in relevant subjects, in addition to the O/L requirements mentioned above.
Acceptable grade levels in the Interim Joint Matriculation Board (IJMB) exams.
In exceptional cases, OND holders with lower credit from recognized institutions may be admitted to the 200 level (part II) in relevant degree programs, provided they meet the minimum requirements for entry into the 100 level.
HND holders with lower credit from recognized institutions may be admitted to the 200 level in relevant degree programs, provided they meet the minimum requirements for entry into the 100 level.
Pass the university-conducted interviews.
Transfer Candidates:
Candidates may transfer from other universities to Crescent University, provided they:
Purchase and complete the prescribed application form (VISIT OUR E-PORTAL PAGE).
Meet the minimum entry requirements for admission to the university. CLICK HERE to view entry requirements.
Ensure their academic transcripts and special confidential reports are received by Crescent University's admissions office no later than two months before the intended session for which admission is sought.
Have a CGPA of at least 1.5.
How to Apply for Crescent University Post UTME Form
Prospective candidates should note the following:
those who chose CUAB (First or Second choice in JAMB) should apply
Interested candidates who did not make Crescent University Abeokuta their choice in JAMB but scored minimum acceptable marks can also apply. But just a change of institution to Crescent as the first choice at any CBT center.
All candidates must have five (5) O'Level credits in relevant subjects at not more than two sittings.
Candidates awaiting O'Level results can also apply.
READ ALSO: ANCHOR UNIVERSITY LAGOS POST-UTME FORM
Visit http://www.crescent.edu.ng, click the "PROSPECTIVE CANDIDATE " menu.
Enter your details in the spaces provided and click "Continue "
Then log in with your email or application number.
Then go ahead and make your payment with your ATM card.
NOTE that after payment you can print out the form or fill it out online.
After completing the registration stages, it is important to print your Registration form and Payment receipt.
If you have successfully paid, and wish to continue your registration stages later, you are free to do so.
Completed application form online must be downloaded and submitted with the following at the Admissions Office of the University:
O'level result
JAMB UTME slip
Birth Certificate
NIN slip
Local Govt Cert of Origin
2 Reference letters addressed to Registrar
12 Passport Photographs
Evidence of payment of #10,000 for Admission processing.
For further inquiries, please call 08030644731.
I hope you find this article helpful.