The Fully Funded East-West Center Graduate Degree Fellowship in the USA is open to international students to study abroad in America. Immerse yourself in cross-cultural enrichment, expand your horizons, and foster international connections through this esteemed fellowship.
This prestigious fellowship opens doors to immersive academic pursuits that bridge cultures, amplify knowledge, and foster cross-cultural understanding. With the EWC GDF, you're not just embarking on a scholarly journey; you're embracing a transformative experience that empowers you to become a global change-maker.
East-West Center Graduate Degree Fellowship In USA 2024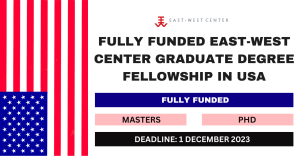 -Scholarship Eligibility
The eligibility criteria for the Fully Funded East-West Center Graduate Degree Fellowship in the USA are stated below:
1. A list of eligible nationalities are mentioned above
2. To be eligible for the graduate programs, candidates must have secured a bachelor's degree spanning four years or its equivalent from a recognized U.S. educational institution or an accredited higher education establishment abroad. Typically, applicants are expected to maintain a minimum grade point average of 3.0 (on a 4.0=A scale) or its corresponding equivalence. This requirement extends to the final four semesters or six quarters of their undergraduate tenure and all subsequent post-baccalaureate academic pursuits.
3. Proficiency in English is essential, demonstrated through standardized test scores such as TOEFL or IELTS. Minimum scores vary by program and should meet the university's requirements.
4. Each graduate program has its own set of prerequisites and application requirements. Ensure your academic background aligns with the program's specifications.
5. Prepare official transcripts from all educational institutions attended and secure strong letters of recommendation that highlight your academic potential and character.
6. Craft a well-structured statement of purpose outlining your academic goals, research interests, and how the EWC GDF aligns with your aspirations.
7. Some programs may require relevant professional experience in your field of study. Check the specific program's requirements.
READ ALSO: ICONIC OPEN UNIVERSITY POST-UTME SCREENING
Scholarship Benefits
The benefits of the Fully Funded East-West Center Graduate Degree Fellowship in the USA are:
1. Comprehensive coverage of full-time graduate tuition and fees, equivalent to the general tuition for post-baccalaureate students at the esteemed University of Hawaii at Manoa, catering to both master's and doctoral pursuits.
2. Comfortable housing within an East-West Center residence hall, fostering a conducive environment for academic growth and cross-cultural engagement. The accommodation is designed for single occupancy.
3. A stipend thoughtfully allocated to assist with daily sustenance and unforeseen expenses, enhancing your ease of living and focus on academic pursuits.
4. An allocation to facilitate the acquisition of essential books, materials, and supplies, ensuring that you have the necessary resources for your educational journey.
5. A dedicated subsidy aimed at contributing to your health insurance coverage, prioritizing your well-being and peace of mind.
I hope you find this article helpful.