The Fully Funded Ecole Polytechnique Federale de Lausanne Fellowship offers Excellence Fellowships to exceptional students who wish to pursue their Master's degree at the university. This note aims to provide detailed information about the EPFL Excellence Fellowships, covering various subheadings for clarity and ease of understanding.
Fully Funded Ecole Polytechnique Federale de Lausanne Fellowship 2024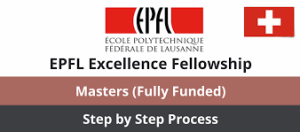 DEADLINE
15 December 2023
STUDY IN
Switzerland
PROVIDER
Ecole Polytechnique Federale De Lausanne
STUDY LEVEL
Masters, Postgraduate
SUBJECTS
All Subjects
FUNDING TYPE
Fully Funded Scholarships
Scholarship Eligibility
The eligibility criteria for the Fully Funded Ecole Polytechnique Federale de Lausanne Fellowship are stated below:
– Academic Merit: Applicants must have an outstanding academic record, typically in the top 10% of their class or equivalent.
– Bachelor's Degree: Candidates should hold or be in the process of completing a Bachelor's degree from a recognized university or institution.
– Field of Study: Fellowships are available for all Master's programs offered at EPFL.
– Nationality: Both Swiss and international students are eligible to apply.
Scholarship Benefits
The benefits of the Fully Funded Ecole Polytechnique Federale de Lausanne Fellowship are:
– Financial Support: The EPFL Excellence Fellowships offer financial support in the form of a monthly stipend throughout the duration of the Master's program.
– Tuition Fee Waiver: Recipients of the fellowship are exempt from paying tuition fees for their Master's degree at EPFL.
– Internship Opportunities: Fellows may have the chance to engage in research internships or industrial placements, enhancing their practical experience.
– Networking and Events: Fellowship recipients become part of a vibrant community of talented individuals, with access to various networking events, seminars, and workshops.
Others
Application Process:
– Online Application: Prospective students need to complete and submit an online application form through the EPFL admissions portal.
– Required Documents: Applicants must provide their academic transcripts, a curriculum vitae (CV), a motivation letter, and letters of recommendation.
– Deadlines: The deadlines for application submission vary based on the desired Master's program. It is crucial to check the EPFL website for specific dates.
 Selection Process:
– Evaluation: The selection committee reviews the applications based on academic achievements, motivation, recommendation letters, and other relevant factors.
– Interview (if required): Some candidates may be invited for an interview or additional assessment as part of the selection process.
– Notification: Successful candidates will be notified of their fellowship award by email. Unsuccessful applicants will also be informed of the outcome.
I hope you find this article helpful.