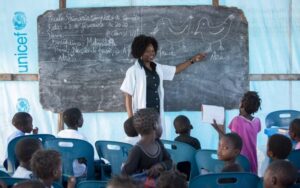 Education in Nigeria is overseen by the Federal Ministry of Education. The local authorities take responsibility for implementing state-controlled policies regarding public education and state schools. The education system is divided into Kindergarten, Primary education, Secondary education, and Tertiary education. Nigeria's federal government has been dominated by instability since declaring independence from Britain, and as a result, a unified set of education policies is yet to be successfully implemented. Regional differences in quality, curriculum, and funding characterize the education system in Nigeria. Currently, Nigeria possesses the largest population of out-of-school learning youths in the world. The educational systems in Nigeria are divided into two the public where the student only pays for PTA and the private where students pay school fees and some other fees like sports, exam fees, computer fees, etc. and they are costly. 
Education in Nigerian schools takes place in English. On November 30, 2022, education minister Adamu Adamu announced a government plan to abolish instruction in English in primary schools in favor of Nigeria's local languages. 
UNESCO's benchmark for funding education was set at 26 percent of the national budget and 6 percent of the gross domestic product (GDP). However, Nigeria has been allocating 6 percent of the national budget to the funding of its education.
Simple mathematics shows that 6 is 23% of 26, which means that Nigeria's funding of education is 77% below the recommended minimum.
I hope you find this article helpful.