EnterpriseNGR Paid Internship Program For Nigerian Youths 2023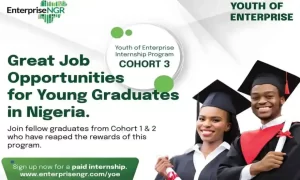 Welcome to the Youth of Enterprise (YOE) internship program by Enterprise NGR. The Youth of Enterprise internship program is a paid six-month internship program that offers Nigerian youth the perfect opportunity to re-invent themselves and "green-start" their careers.
| | |
| --- | --- |
| 🌐 Initiative Name | EnterpriseNGR Youth of Enterprise (YOE) |
| 📈 Programme Goal | Recruit & upskill 5,000 youths annually for a paid 6-month internship with partner organizations. |
| 🌱 Programme Highlight | Offers a chance to "green start" careers and makes participants prime candidates for recruitment in Nigeria. |
| 📚 Benefits | Employability skills, on-the-job training, mentorship, zero costs. |
| 🇳🇬 Context | Addresses Nigeria's youth unemployment and under-employment; over 42% of Nigerian youth are unemployed. |
| 🤝 Partnership Process | Involves FPS sector, other sectors, bespoke tech applications, identity verification, assessments & screening. |
| 📚 Training Details | Robust curriculum, engaging learning management system, and team activities. |
| 🔍 Placement & Support | Employer-intern matching, on-the-job training, post-internship support, and mentorship. |
What is the Youth of Enterprise (YOE) Internship?
At its core, the YOE Internship is more than just work experience. This paid, six-month program offers Nigerian youth a unique opportunity to redefine their professional trajectories, giving them a chance to "green start" their careers.
Designed to provide:
Essential employability skills,
Real-world on-the-job training,
Supportive mentorship, and
All at absolutely zero cost to the participant,
This internship is one of EnterpriseNGR's flagship developmental initiatives. The program directly addresses the prevalent issues of youth unemployment and underemployment in Nigeria while also bolstering the private sector's capacity.
The Backdrop: Nigeria's Youth Conundrum
With the National Population Commission indicating that out of Nigeria's staggering population of around 220 million, half are youths, the country faces a formidable challenge. A sobering statistic from the Nigerian Bureau of Statistics reveals that over 42% of these youths are unemployed, with an even larger proportion being underemployed.
EnterpriseNGR's YOE Internship emerges as a beacon of hope amidst these figures, focusing on enhancing the employability quotient of Nigerian youth and positioning them for trailblazing success in their respective fields.
READ ALSO: UNILAG POST UTME ADMISSION SCREENING FORM
Journey of the YOE Internship: From Application to Placement
1. PARTNERSHIP
Collaboration with FPS Sector and other multifaceted sectors.
2. APPLICATION
Seamless application via state-of-the-art technology.
Reliable identity verification.
Thorough assessments and meticulous screening.
3. TRAINING
A robust and contemporary curriculum.
A captivating Learning Management System.
Engaging in reading materials and collaborative team activities.
4. PLACEMENT
Tailored matching of interns with employers.
Experiential on-the-job training.
Post-internship support and guidance.
Continued mentorship even after the internship concludes.
How to Apply for YOE Internship
If you believe you fit the bill and are ready to embark on this transformative journey, Apply Now.
For a deeper dive into the
program and further details, head over to the Official YOE Information Page.
In a rapidly evolving world, opportunities like the Youth of Enterprise Internship by EnterpriseNGR can prove to be turning points in young professionals' careers.
It's not just an internship; it's a promise for a brighter future!
I hope you find this article helpful.