The Food and Agriculture Organization (FAO) of the UN Funded Internship Program offers undergraduate, graduate, and postgraduate students numerous internships in regional offices of FAO.
The Internship Programme is a learning opportunity to attract talented young women and men who are strongly motivated to share their new perspectives, innovative ideas, and latest research experience in FAO's domains.
The program provides selected students enrolled in an undergraduate, graduate, or post-graduate degree program or recent graduates with the opportunity to supplement their academic knowledge with practical work assignments in a field related to the work of FAO.
Food and Agriculture Organization(FAO) UN Funded Internship Program 2024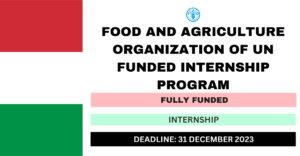 DEADLINE
31 December 2023
STUDY IN
Italy
PROVIDER
Food And Agriculture Organization Of Un
STUDY LEVEL
Internship, Training
SUBJECTS
Subjects offered by the university
FUNDING TYPE
Partial Scholarships, Fully Funded Scholarships
Scholarship Eligibility
The eligibility criteria for the Food and Agriculture Organization of UN Funded Internship Program are stated below:
1. Enrolled in an undergraduate, or graduate degree program in a bona fide (i.e., listed in the IAU/UNESCO database) educational institution at the time of application or recent graduates. Applicants pursuing their studies in a country where higher education is not divided into undergraduate and graduate stages must have completed at least three years of full-time studies toward completing a degree. Candidates must specialize in a field relevant to the mission and work of FAO.
2. Working knowledge of at least one FAO official language (Arabic, Chinese, English, French, Russian or Spanish). Knowledge of a second FAO official language will be considered an asset. Only language proficiency certificates from UN-accredited external providers and/or FAO language official examinations (LPE, ILE, LRT) will be accepted as proof of the level of knowledge of languages indicated in the online applications.
3. Be nationals of FAO Member Nations
4. Candidates should be aged between 21 and 30.
5. Candidates should be able to adapt to an international multicultural environment, have good communication skills, and be knowledgeable in basic computer programs.
6. Candidates with family members (defined as brother, sister, mother, or father) employed by FAO under any type of contractual arrangement are not eligible for the Internship Programme.
7. Candidates should have appropriate residence or immigration status in the country of assignment.
FAO Core Competencies:
2. Teamwork
3. Communication
4. Building Effective Relationships
5. Knowledge Sharing and Continuous Improvement
READ ALSO: UNILAG MASTERS IN URBAN MANAGEMENT PROGRAM
Scholarship Benefits
The Food and Agriculture Organization of UN Funded Internship Program pays a monthly stipend to interns if they are not sponsored by sending universities or others.
Others
How to Apply:
1. To apply, visit the recruitment website (below) and complete your online profile. Incomplete applications will not be considered. Only applications received through the recruitment portal will be considered.
2. Only applications received through iRecruitment will be considered.
3. Candidates must attach a letter of motivation and evidence of attendance at a recognized university.
I hope you find this article helpful.