The Federal Polytechnic, Bali has made a significant announcement regarding the admissions for the new academic year.
Federal Polytechnic, Bali HND Admission List 1st Batch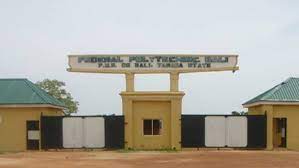 Federal Polytechnic, Bali HND Admission List
Check Your Admission Status
Announcement

: The first batch admission list for HND candidates for the 2023/2024 session has been released.

Where to Find the List

: The complete list is now displayed on the school's noticeboard.
READ ALSO: LASU ACCEPTANCE FEE 2023/2024
Next Steps for Prospective Students
Visit and Check

: To find out if you have been selected, please visit the noticeboard at Federal Polytechnic, Bali.

Congratulations

: If your name is on the list, a hearty congratulations to you!
This is a milestone to be proud of, marking the beginning of your journey towards advanced technical and vocational education. As you prepare to start this new chapter, here are a few things to keep in mind:
Enrolment

: Get ready to complete your enrolment process.

Preparation

: Start gathering your study materials and gear up for the academic challenges ahead.
I hope you find this article helpful.