Federal University of Kashere, situated in Gombe State, has recently disclosed modifications to its undergraduate service charges in response to the shifting economic conditions impacting teaching and learning resources. This announcement, made through an internal memo, is essential for all students and stakeholders of the institution to be aware of.
FUKASHERE Reviews Undergraduate Service Charges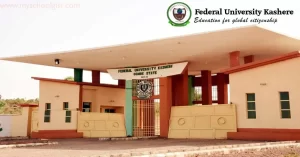 A Response to Economic Realities
In light of increasing operational costs, such as teaching materials, laboratory consumables, and additional academic services, the University has found it crucial to adjust its student service charges. This decision aims not only to reflect the current economic climate but also to ensure the University's financial stability, enabling it to maintain the quality of its academic activities without hindrance.
Instructions for Students
All students enrolled at the Federal University of Kashere are required to:
Log into their accounts on the Students Records Management System (SRMS).
Access the specific fee amount due for the 2023/2024 academic session.
It's important to note that the fees might vary depending on the program of study. Factors determining these fees include, but are not limited to, costs associated with laboratories, workshops, studios, industrial attachments/SIWES, and teaching practice (TP).
Hostel Maintenance Fees Unchanged
Despite the review in some areas, the University has decided to retain the existing hostel maintenance fee. Students will continue to be charged at the rate of Thirty Thousand Naira (₦30,000.00) for each bed space, ensuring affordability in accommodation for all.
In summary, adapting to economic shifts is vital for academic institutions to ensure they provide quality education without compromising on essential services. The Federal University of Kashere is committed to its mission of academic excellence and student welfare, even amidst financial adjustments.
Students and stakeholders are encouraged to stay informed and promptly address any financial requirements for the upcoming academic year.
I hope you find this  article helpful.