The Fully Funded Berea College Scholarships in the USA are open to all internationals worldwide. For students who want to pursue a bachelor's degree in the USA, this is a great opportunity for them. Berea College has a long history of welcoming all peoples of the earth. Admission to Berea College is competitive, and students are encouraged to read all information provided here before submitting an application.
Fully Funded Berea College Scholarships In USA 2024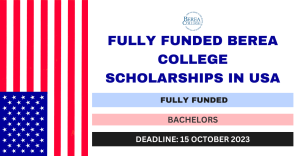 Scholarship Eligibility
The eligibility criteria for the Fully Funded Berea College Scholarships in the USA are stated below:
1. TOEFL:  520 (paper-based); 190 (computer-based); 68 (internet-based)
2. IELTS: 6 overall, 5 in each area
3. ACT: 19 Composite
4. SAT:  980 Combined Score
5. Duolingo: 95
READ ALSO: IGBAJO POLYTECHNIC POST-UTME FORM
Scholarship Benefits
The Fully Funded Berea College Scholarships in the USA will provide financial aid and scholarships that cover 100% of tuition, room, board, and fees for the first year of enrollment. In subsequent years, international students are expected to save US$1,000 per year to contribute towards their expenses. The College provides summer jobs to international students so that they may meet this obligation.
Accepted international students are also expected to pay a $2,200 (US) deposit to confirm their enrollment. This deposit can be used by international students for certain expenses during their four years of enrollment. For students who are unable to pay all or a portion of the deposit, additional financial aid is available.
I hope you find this article helpful.