The Fully Funded Chevening Fellowships in the UK is one of the top-class fellowships of the world, which allows the fellows to come to the UK on a fully funded basis and learn about advanced level knowledge and professional techniques. This fellowship shows the promising nature of the UK regarding diplomatic cooperation and globalization in a positive manner. Every year, talented and promising fellows who have the enthusiasm to make a difference and bring change in their communities are given the opportunity to become part of this Chevening fellowship and the Chevening fellows' community.
The Chevening Fellowship program is offered to highly influential individuals without any discrimination of gender or nationality. However, one thing that is of utmost importance in this international opportunity is the fellows' commitment to increasing their knowledge, networks, and potential. It is assumed from Chevening Fellows that they would be able to exhibit this potential through their previous work and resume. Meanwhile, to have a proper capacity-building environment for the fellows, they are provided with a platform to become part of tailored short courses and research programs, or they are professionally placed at UK institutions to learn to use theory in practice.
These Chevening Awards aim to support mid-career professionals who are already serving in leadership positions across the globe. Due to its extraordinary and dynamic training that helps in professional development, this award has become an internationally competitive award scheme. In addition to its benefits regarding professional development, the Chevening Fellowship 2023 serves as a tool to create valuable soft power networks of future leaders, influencers, and decision-makers from all over the world. Moreover, the Chevening Award fellows collaborate with other colleagues and peers in a highly professional environment and also learn from others' experiences.
It is an embodiment of the UK's international strategic priorities. With this opportunity, the fellow, as well as the UK, gets equal strategic and diplomatic benefits as it is another form of soft diplomacy and cultural exchange. The Chevening scholarship is a unique program because, in this program, the fellows can become part of any short course in the UK for free or do self-directed academic or professional research without getting enrolled in a full-time master's program in a UK university. Moreover, in this program, the fellows can undertake the study period at various pre-times throughout the year.
Fully Funded Chevening Fellowships In UK 2024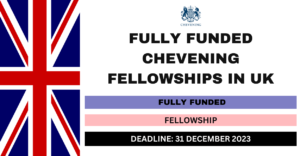 DEADLINE
31 December 2023
STUDY IN
United Kingdom
PROVIDER
Chevening
STUDY LEVEL
Fellowship
SUBJECTS
Subjects offered by the university
FUNDING TYPE
Fully Funded Scholarships
Scholarship Eligibility
The eligibility criteria for the Fully Funded Chevening Fellowships in UK are stated below:
1. The candidate must be a citizen of a Chevening-eligible country.
2. Candidates must be mid-career professionals.
3. Candidates must have a Minimum of five years of work experience in a relevant related field.
4. The types of work experience that are eligible for Chevening are full-time employment, part-time employment, voluntary work, and paid or unpaid internships
5. Candidates must be already in positions of influence.
6. The candidate must be committed to returning to the home country after completing the program.
7. The candidate must have a postgraduate-level qualification or equivalent professional training or experience in a relevant area at the time of application.
8. Candidates must fulfill program-specific fellowship eligibility requirements.
9. Interested candidates must not hold British or dual British citizenship.
10. The candidate must not be awarded any UK Government scholarship funding, including Chevening, within the last five years.
11. The candidate must not be an employee, a former employee, or a relative of an employee of Her Majesty's Government within the last two years.
12. Chevening fellowship does not require IELTE/TOFEL or other English proficiency certificates.
Scholarship Benefits
The benefits of the Fully Funded Chevening Fellowships in the UK are:
1. Program Fees
2. Return Air Ticket
3. Living Expenses
4. Additional Benefits: Various fellowship programs offer other unique benefits. It's recommended to review each program's specifics to understand the full range of advantages provided.
Others
How to Apply
1. Paper form applications are not accepted, and the applicants have to apply online through the online Chevening Application form.
2. The applicants must choose a specific Chevening course of their related fields from the list of available courses.
3. Although there is no need for IELTS/TOFEL or other English proficiency tests in Chevening, specifically if your selected institute has specific requirements for the language proficiency test, you have to submit the scores to get an offer letter.
4. It is highly recommended that you check all individual program requirements before applying.
I hope you find this article helpful.