The Fully Funded KU Leuven Scholarship in Belgium is accepting applications for the 2024 intake.  The scholarship is available for international students to study for Masters degree programs.
This scholarship has been launched by the Faculty of Science and its alumni association, Science@Leuven. International students who are talented and Motivated to study abroad are encouraged to apply for a scholarship through the Faculty of Science at KU Leuven.
KU Leuven has served as a major academic hub since its founding in 1425. KU Leuven is one of Europe's oldest and most prestigious institutions; it is currently the best-ranked university in Belgium. High-quality academic instruction is provided to students at all levels by KU Leuven.
Fully Funded KU Leuven Scholarship in Belgium 2024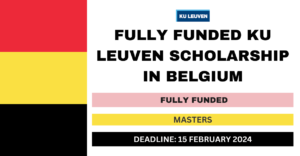 DEADLINE
15 February 2024
STUDY IN
Belgium
PROVIDER
Ku Leuven
STUDY LEVEL
Masters, Postgraduate
SUBJECTS
Subjects offered by the university
FUNDING TYPE
Fully Funded Scholarships
Scholarship Eligibility
The eligibility criteria for the Fully Funded KU Leuven Scholarship in Belgium are stated below:
1. English is required ( IELTS minimum score of 7 or TOEFL minimum score of 94).
2. International candidates from all world countries are eligible to apply.
3. Applicants have never before studied or worked at the University of Leuven.
4. To get access to the desired Master's degree program, applicants must have a bachelor's degree from a recognized University.
5. The candidates do not yet hold a master's or PhD degree.
6. The candidates intensely desire to enroll in a master's degree program at the KU Leuven Faculty of Science.
7. Students who have received this scholarship must sign a contract outlining the acceptance terms.
8. The applicants are ready to serve as program ambassadors.
Scholarship Benefits
The benefits of the Fully Funded KU Leuven Scholarship in Belgium are:
1. The value of this scholarship is up to 10,000 euros over the course of a year. The Science@Leuven Fund Board will decide the exact value of each scholarship. This scholarship will cover a year's tuition, insurance, and minimal health.
2. It is advisable for students to bring some extra cash; even if a student receives the full 10,000 Euro scholarship, it is still advisable to bring some extra cash.
3. The duration for most of the master's programs of the Faculty of Science is two years. Only those students are granted scholarships for their second year who will perform very well in their first master's year
Others
How to Apply?
1. Choose the Master's program from the offered programs by Science@Leuven and apply for it through the official portal of KU Leuven.
2. you must read the application instructions carefully before applying for a scholarship.
3. Must upload the following documents via the KU Leuven application portal;
a. Complete list of course titles
b. Reference letters (Two)
c. A motivation letter for the program
4. You will receive a notification on the screen confirming that you successfully applied after completing and submitting your master's program application.
Important Note: You must take a screenshot of this message. The screenshot must be uploaded when you apply for the Science@Leuven Scholarship.
5. Once you've gotten an email indicating your registration for the Science@Leuven Scholarship, your registration is complete.