The Fully Funded Morgan Stanley Internship is accepting applications from the Americas, Europe, the Middle East, Africa, Japan, and non-Japan Asia.  The applications are open to apply for the Summer Analyst & Off Cycle Internship Program 2024. Morgan Stanley is an American Multinational Investment Bank and Financial Service Company present in 41 countries with more than 75,000 Employees. No matter your field of interest or background. If you're ready to excel, the Morgan Stanley Summer Internship is for you.
Fully Funded Morgan Stanley Internship 2024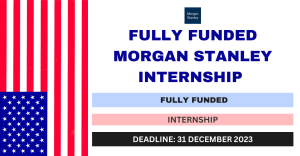 DEADLINE
31 December 2023
STUDY IN
United States Of America
STUDY LEVEL
Internship, Training
SUBJECTS
Subjects offered by the university
FUNDING TYPE
Fully Funded Scholarships
Scholarship Eligibility
The eligibility criteria for the Fully Funded Morgan Stanley Internship are stated below:
1. The Internships are open to students currently in Europe, the Middle East & Africa from any background. No Matter what your field is.
2. Students in Associate Degree/College Diploma, Bachelors Degree, Masters Degree, Doctorate Degree, MBA.
Scholarship Benefits
The benefits of the Fully Funded Morgan Stanley Internship are:
1. Competitive salary and housing stipend
2. Paid time off
3. Health insurance
Others
Internship Areas
Investment Banking
Asset Management
Sales and Trading
Risk Management
Technology
Compliance
Finance
Investment Management
Technology
Fixed Income
Research
Public Finance
Institutional Equities
Wealth Management
Human Resources
Business Administration
Risk
Operations and Logistics
Internal Audit
I hope you find this article helpful.