The Fully Funded NASA Hubble Fellowship in the USA provides an opportunity for recent postdoctoral scientists to conduct independent research that contributes to any area of NASA Astrophysics. It supports outstanding postdoctoral scientists to pursue independent research that contributes to NASA Astrophysics using theory, observation, experimentation, or instrumental development. It preserves the legacy of NASA's previous postdoctoral fellowship programs. Once selected, fellows are named to one of three sub-categories corresponding to NASA's "big questions":
1. How Does the Universe Work? – Einstein Fellows
2. How Did We Get Here? – Hubble Fellows
3. Are We Alone? – Sagan Fellows
Fully Funded NASA Hubble Fellowship In USA 2024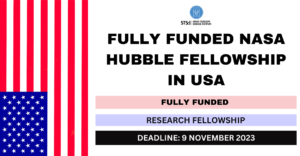 DEADLINE
9 November 2023
STUDY IN
United States Of America
PROVIDER
Space Telescope Science Institute
STUDY LEVEL
Fellowship, Research Program
SUBJECTS
Subjects offered by the university
FUNDING TYPE
Fully Funded Scholarships
Scholarship Eligibility
The eligibility criteria for the Fully Funded NASA Hubble Fellowship in the USA are stated below:
1. It is open to English-speaking applicants of any nationality who have earned their doctoral degrees in astronomy, physics, or related disciplines on or after January 1, 2020, or will receive their degree before September 2024.  Graduate-student awardees who have not yet received their doctoral degree at the time of application must present evidence of having completed all requirements for the degree before commencing their fellowships. Former and present NHFP Fellows are not eligible to apply.
2. It is open to English-speaking citizens of all nations. Qualified applicants will receive consideration regardless of race, creed, color, age, gender, gender identity or expression, sexual orientation, veteran status, disability, or national origin. Women and members of minority groups are strongly encouraged to apply.
Scholarship Benefits
The Fully Funded NASA Hubble Fellowship in the USA provides salary support, benefits for up to three years, and an additional allowance for travel and other research costs.
Others
Required application materials
Applicants must submit their materials via the web Application Form. These materials must include:
2. Curriculum vitae and list of publications
3. Research overview, described below.  Limited to eight pages, including tables and figures.
Please do not attach anything not listed above (reprints, preprints, cover letter, etc.) to your application.
All materials submitted must be in at least 12-point font and single-spaced.
Applicants should ensure that their applications will copy successfully onto 8.5 x 11 inch (21.6 x 28 cm) paper without loss (i.e., with 1-inch margins on all sides). Please keep each file to less than 2 MB.
I hope you find this article helpful.