The University of Southern Denmark is pleased to announce the Fully-funded PhD International Scholarships in Behavioral Economics at the Department of Economics for the academic year 2023-2024. The funding supports talented students who want to undertake a fully-funded 3-year PhD degree. The PhD scholarship is fully funded by the Sino-Danish Centre for Education and Research (SDC) for three years. The selected candidate will receive a competitive salary package.
Fully-funded PhD International Scholarships 2023/2024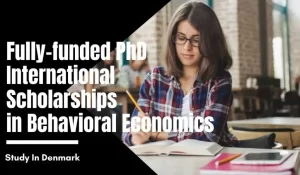 The University of Southern Denmark offers a compelling academic experience with its world-class faculty, diverse range of programs, and a welcoming international community. It stands out for its research-driven approach and commitment to innovation, fostering a dynamic learning environment. Located in a picturesque region with a high quality of life, studying at the University of Southern Denmark provides both a top-tier education and an enriching cultural experience, making it an excellent choice for students seeking a well-rounded and fulfilling university experience.
Application Deadline: Students can send their applications until 10 October 2023. 
Description
University or Organization: 

University of Southern Denmark

Department: 

Department of Economics

Course Level: PhD

Award: 

Fully-funded

Number of Awards: 

NA

Access Mode: 

Online

Nationality: 

International and Domestic 

The award can be taken in Denmark 
Eligibility
Eligible Countries: 

Danish and international students can apply.

Eligible Course or Subjects: 

Students can apply for the PhD in Advanced thin films for scalable energy conversion and storage devices at the University of Southern Denmark. 

Eligibility Criteria: 

To be eligible, the applicants must meet all the following/given criteria:

Master's degree in economics, management, psychology, or a related field, obtained before the start of the scholarship
Strong interest in and some knowledge of behavioural economics, especially behavioural decision theory
Knowledge of experimental methods and experience in designing and conducting lab or online experiments are desired
Strong analytical and econometric/statistical skills
Strong written and verbal communication skills in English
Candidates with strong programming skills (e.g., Python, R) are preferred.
How to Apply
How to Apply: Students must apply by filling out this application form. All applicants will be considered.
Supporting Documents: The students are required to present the following documents to the university:
Detailed CV, with contact information for two references who can provide recommendation letters
Copies of diplomas and academic transcripts
A motivational letter describing why the applicant is a good match for the topic and how the applicant's skills provide a solid foundation to do so (max. 2 pages).
Proposal of a research project that employs experimental methods to study decision-making under uncertainty (max 5 pages of 2400 characters each, including references. Guidelines for preparing project description provided by the faculty)
An abstract for the above project description of no more than 250 words
Admission Requirements: The applicants must check all the admission requirements at the university.
Language Requirement: The applicants must have a very good capability of communicating scientific results in English, both orally and in writing.
Benefits
The selected candidate will receive a competitive salary package. The employment as a Salaried PhD Research Fellow is governed by the agreement of 10 November 2015 on Graduate Employees in government appendix 5 – protocol on PhD Research Fellows.
I hope you find this article helpful.