The Fully Funded Russian Government Scholarship is accepting applications from internationals for the 2023-24 session. This Scholarship is Funded by the Russian Federation for all international students who want to study  Masters and Ph.D Degree Programs in Russian Universities. The Scholarship is aimed at talented foreign students who would like to enroll in Master's and Postgraduate programs. Choosing any of 500 Russian Universities, including 21 leading universities of Russia.
Fully Funded Russian Government Scholarship 2024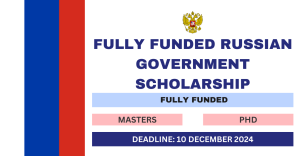 DEADLINE
10 December 2023
STUDY IN
Russian Federation
PROVIDER
Russian Government
SUBJECTS
Subjects offered by the university
FUNDING TYPE
Government Scholarships, Fully Funded Scholarships
Scholarship Eligibility
The eligibility criteria for the Fully Funded Russian Government Scholarship are stated below:
1. Applicants can be from any nationality (Outside of Russia)
2. Students must have at least a bachelor/undergraduate degree or transcript for the Master's degree applications
3. For Ph.D.: Students must have a bachelor's and master's degree with a research interest in any of the subjects
4. Applicants must be research and study abroad oriented
5. Students must be in good physical and medical health
6. Language Requirement: Students will be evaluated by their English proficiency during the interview and if possible students can submit the official Language test reports (not required official). By the way, the courses will be in English and Russian if you want to learn the Russian Language as an international student to adopt the culture and communication.
Scholarship Benefits
The benefits of the Fully Funded Russian Government Scholarship are:
1. As you are familiar there is free education in Russia (no tuition fee to study in Russia)
2. The Russian Government will provide a monthly stipend as well according to the average living expenses in Russia.
Others
Available Subjects
Clinical Medicine & Public Health
Earth Sciences
Education
Psychology
Economics
Biology & Biotechnology
Neuroscience & Psychology
Physical Sciences
Chemistry & Materials Science
Economics & Econometrics
Computer and Data Science
Mathematical and Artificial Intelligence
Business and Management
Political and International Studies
Linguistic and Modern Languages
Engineering and Technology
Documents Required
Copy of Passport
Passport size Photo
Educational Documents
Study Plan/ Research Plan
Research Proposal (If any)
Statement of Purpose
Language Proof (If any)
Recommendation letters
Publications (if any)
I hope you find this article helpful.