Fountain University, Osogbo (FUO), has achieved a significant milestone in the field of health education, as its Nursing program has recently received accreditation from the Nursing and Midwifery Council of Nigeria (NMCN). This accreditation, valid for the next five years, is a testament to the university's commitment to providing top-notch education and training for future healthcare professionals.
FUO Accreditation For Nursing Program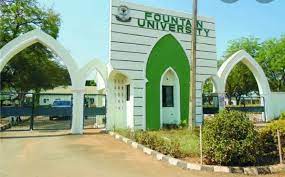 A Five-Year Seal of Excellence
The Nursing programme at Fountain University has been rigorously evaluated by the NMCN and has met the high standards required for accreditation. This not only underscores the quality of the curriculum and the educational resources available at FUO but also guarantees that students will receive an education that is both relevant and respected within the healthcare sector.
RECOMMENDED: FCFMT SHORT-TERM COURSES ADMISSION FORM 2023/2024
The Pioneers Behind the Achievement
At the helm of this success is the Prof. Olayinka Ramota Karim-led management team. Their dedicated efforts and visionary leadership have been instrumental in steering the programme to meet and exceed the expectations of the accrediting body. It is under this stewardship that FUO has crafted a nursing education environment that combines academic rigour with practical skills.
Impact on Students and the Healthcare Industry
For students, this accreditation means that their credentials will be highly regarded, opening doors to numerous opportunities in the healthcare field both domestically and internationally. It also assures current and prospective students that the education they receive at Fountain University is of the highest standard.
For the healthcare industry, the accreditation of FUO's Nursing program contributes significantly to the available pool of qualified nursing professionals who are essential for the advancement of healthcare services and patient care.
For More Information on Fountain
Those eager to delve deeper into the details of this accreditation can look forward to the October edition of Fountain Chronicles, the official monthly publication of Fountain University. The chronicle is poised to provide an in-depth look at the journey towards this accomplishment and its implications for the university's future.
I hope you find this article helpful.