This is to inform the general public and prospective students of the Fountain University Osogbo (FUO), that the school management has reopened the 2023/2024 Fountain University Post UTME registration portal.
Interested candidates are advised to purchase the registration form before the Fountain University Post UTME form closing date for registration.
                   FUO Post UTME/DE Screening Application Form 2023/2024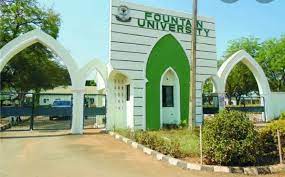 | | |
| --- | --- |
| 🏫 Fountain University, Osogbo | Invites applications for 2023/2024 Post-UTME screening for degree programs. |
| 🧪 Natural & Applied Sciences | Departments of: Biological, Chemical, Physics, Electronics & Earth, Mathematics & Computer Sciences. |
| 📊 Management & Social Sciences | Departments of: Accounting & Finance, Economics, Business Administration, Political Science & Industrial Relations, Psychology & Sociology, Mass Communication. |
| 🏥 Basic Medical & Health Sciences | Courses in: Medical Laboratory Science, Nursing, Public Health. |
| 📝 Admission Criteria | Choose FUO as the first choice in 2023 UTME. If not, change the institution on the JAMB portal to FUO. |
| 🖥️ Application Process | 1. Change of Institution on JAMB. 2. Return to the FUO website. 3. Post-UTME Screening registration with N2,000 fee. 4. Follow admission steps after screening. |
| 💳 Payments & Fees | Pay a non-refundable acceptance fee of N60,000 after the admission offer. The payment process is available at newportal.fuo.edu.ng. |
| 📞 Contact Information | For assistance, email admissions@fuo.edu.ng |
Unveiling the Programs
Embark on a transformative journey with the courses offered across various colleges:
1. COLLEGE OF NATURAL AND APPLIED SCIENCES
Department of Biological Sciences
Department of Chemical Sciences

B.Sc Biochemistry and Nutrition
B.Sc Chemistry
B.Sc Industrial and Environmental Chemistry

Department of Physics, Electronics and Earth Sciences

B.Sc Physics
B.Sc Physics and Electronics

Department of Mathematics and Computer Sciences
2. COLLEGE OF MANAGEMENT AND SOCIAL SCIENCES
Department of Accounting and Finance

B.Sc Accounting
B.Sc Banking and Finance

Department of Economics
Department of Business Administration

B.Sc Business Administration

Department of Political Science and Industrial Relations

B.Sc Political Science and Public Administration
B.Sc Industrial Relations and Personnel Management

Department of Psychology and Sociology

B.Sc Sociology
B.Sc Psychology

Department of Mass Communication
3. COLLEGE OF BASIC MEDICAL AND HEALTH SCIENCES
Medical Laboratory Science (B. MLS)
Nursing (B.NSc.)
Public Health (BSc.)
Eligibility Criteria
To lay your academic foundation at FUO, it's imperative you've chosen Fountain University via the Joint Admissions and Matriculation Board (JAMB) portal in the 2023 UTME.
Haven't chosen FUO as your first preference? No hiccups! Here's a clear pathway:
Step 1: Changing Your Institution
Hop over to the official JAMB portal. Upon logging in, select the "Change of Institution" tab, earmark Fountain University as your top choice, confirm the changes, and grab a printout as evidence.
Step 2: Embark on FUO's Portal
Once the above change reflects, head back to Fountain University's Website. Navigate through the admission prerequisites to ensure you tick all the boxes.
Step 3: Dive into the Post-UTME Screening
Click "Take Post UTME Screening". Fill in the required details diligently. A token of N2,000 is to be paid as the screening fee.
Step 4: After the Screening
Hold your horses as our admission office sifts through applications. Once admitted, a NON-REFUNDABLE ACCEPTANCE FEE of N60,000 is your next step. Subsequent communication flows through the email provided.
READ ALSO: MOUNTAIN TOP UNIVERSITY POST-UTME FORM
Application Blueprint
Commence your journey at Fountain University's Portal by selecting "APPLY FOR ADMISSION".
Click "NEW APPLICATION" to carve out your account.
Once an "APPLICATION NUMBER" pops up in your email, use it to log in.
Make the application fee payment and meticulously follow the subsequent prompts. Note: jpg, png, or pdf formats are your go-to for document uploads.
The Post UTME examination can be undertaken by clicking "TAKE POST UTME EXAM".
Upon admission, accept your golden ticket by paying the acceptance fees, and voila! The portal's outlook will alter.
The crowning moment? Printing your Acceptance Letter.
Making Payments: A Quick Guide
Initiate at Fountain University's New Portal. Navigate to 'STUDENTS', and sign in using your matric number and surname (which is also your initial password – do change it ASAP!).
Update your profile by visiting "MY PROFILE". The bursary will guide you through the exact payment details.
The "FEES" section showcases all due payments. Tally them with your requirements.
Post liaising with your level adviser, course registration is your next pit stop.
Your adviser gives a nod to your chosen courses.
The portal then serves as your course form's printing destination, ready for all official endorsements.
Direct Application Mode
Prospective bright minds can directly land on Fountain University's Application Page to set the ball rolling. Fill out the form and the cyber cashier awaits your fee.
Need Assistance? Our dedicated team at the admissions office is all ears. Drop us an email at admissions@fuo.edu.ng.
Come, be a part of Fountain University, Osogbo – where aspirations transform into achievements.
I hope you find this article helpful as well as interesting.