Federal Polytechnic, Ilaro/Federal University Oye-Ekiti (FPI/FUOYE) Top-Up Degree Programme Forms are out for the 2023/2024 session.
Sales of forms started from 14th August to 25th October 2023.
The first screening for admission will take place on 28th October 2023
FUOYE/Ilaro Poly Top-Up Degree Program 2023/2024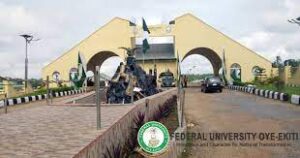 | | |
| --- | --- |
| 📚 Programme | Top-Up (Degree & HND Conversion) at Federal Polytechnic, Ilaro/Federal University Oye-Ekiti (FPI/FUOYE) 2023/2024 |
| 🎓 Purpose | Provides quality uni education for university grads & HND holders, aiding academic rectification & certification upgrade. |
| 🎯 Programme Objectives | Conversion from HND to uni degree, upgrade degree quality, facilitate degree/career change, & level academic ground for degree acquisition. |
| 🏢 Available Courses | Courses in Engineering, Sciences, Agriculture & Management Sciences (e.g. B.Eng. Computer Engineering, B.Sc. Accounting) |
| 📜 Admission Requirements | 5 O'Level credits, relevant subjects in 2 sittings, English (compulsory), Maths (for some faculties), min Third Class Honours or HND, NYSC completion/exemption. |
| 📅 Duration & Venue | 2 years, six semesters (15 weeks each). At Engineering Complex, Federal Polytechnic, Ilaro (Full-Time) |
| 📝 How to Apply | Obtain the form at Federal Polytechnic Ilaro after the N15,000 payment. Submit with credentials at the Directorate of Linkage & Affiliation, Ilaro. |
| 📆 Key Dates | Sales of forms: 14th Aug – 25th Oct 2023. First screening: 28th Oct 2023. |

An Insight into the Top-Up Program
The collaborative initiative between Federal Polytechnic, Ilaro, and Federal University Oye-Ekiti provides an unparalleled platform that offers avenues for high-quality university education for aspiring candidates. This scheme is a beacon of hope for university graduates who faced academic challenges during their initial degree, offering them a chance to improve their academic standings. Moreover, HND graduates can utilize this golden opportunity to elevate their qualifications to University Degrees.
READ ALSO: MOUNTAIN TOP UNIVERSITY POST-UTME FORM
Key Objectives of the Top-Up Program
The FUOYE Top-Up Programme aims to:
Bridge the academic gap, enabling HND holders to convert to university degree certification.
Enhance the standard of university degrees, especially for those who graduated with Third Class or Pass.
Offer the possibility for a change in degree or career, as per student requirements.
Level the playing field for acquiring a university degree.
Available Courses for the FUOYE – Ilaro Poly Top-Up/Conversion Program
Faculty of Engineering:
B.Eng. Computer Engineering
B.Eng. Civil Engineering
B.Eng. Electrical/Electronics Engineering
B.Eng. Mechanical Engineering
Faculty of Sciences:
B.Sc. Computer Science
B.Sc. Mathematics
B.Sc. Physics
B.Sc. Industrial Chemistry
B.Sc. Microbiology
B.Sc. Biochemistry
Faculty of Agriculture:
B.Agric. Animal Production and Health
B.Agric. Food Science and Technology
B.Agric. Hospitality and Tourism Management
Faculty of Management Sciences:
B.Sc. Accounting
B.Sc. Business Administration & Management
B.Sc. Banking & Finance
B.Sc. Public Administration
Admission Requirements
To be eligible:
Applicants need to have a minimum of five (5) O'Level subjects with credit scores in pertinent subjects, achieved in no more than two attempts.
A credit in English Language is mandatory for all candidates, and those keen on faculties of Engineering, Sciences, and Social Sciences also require a credit in Mathematics.
A minimum of a Third Class Honours, Pass degree, or an HND certificate from a recognized institution is requisite for the conversion program.
All candidates should have completed or be exempted from the mandatory National Youth Service Corps (NYSC) scheme.
Additional Programme Details
Duration: The program spans two years, divided into six semesters, each lasting 15 weeks. The final duration is subject to the institution's decision.
Lecture Venue: Classes will be held at the Engineering Complex, Federal Polytechnic, Ilaro, on a full-time basis.
How to Apply
Application Form: Available at Federal Polytechnic, Ilaro upon a non-refundable payment of N15,000.
Submission: Once filled, present the form along with pertinent credentials (originals & photocopies) and the payment receipt at the Directorate of Linkage and Affiliation, Federal Polytechnic, Ilaro.
Online Application: For a smoother process, click here to apply online.
Application Timeline: 14th August – 25th October 2023 First Admission Screening: Scheduled for 28th October 2023.
For further queries, feel free to reach out to:
Mr. S.A. Taiwo: 08033806653
Mr. D.A. Fatuase: 07068416010
Grab this chance to advance your academic journey and open doors to promising career prospects with the FPI/FUOYE Top-Up Program.
I hope you find this article helpful.