FlashLearners Jamb CBT App For 2024…
The FlashLearners Jamb CBT App is Best Jamb Learning App to Score above 300 in UTME 2024. The Application Features Over 18,000 Past And Likely Questions Offline, Video Classes, Jamb Novels, Competitions to Win ₦30,000, etc.
Jamb Repeats Or Twists Questions. With the FlashLearners Jamb CBT App, you get Areas of Concentration, Repeated Questions, and Watch Jamb Videos.
DOWNLOAD


A. Click To Install On Your Phone
B. Download For Laptops And Desktops

Support: WhatsApp Chat
RECOMMENDED


1. Flashlearners Waec App 
2. Make Money Selling Apps
3. Flashlearners Videos

The Flashlearners Applications are available for Phones, Laptops, and Desktops. You can Install it as an Individual or Institution.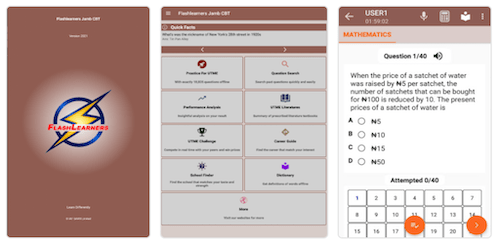 Features Of FlashLearners Jamb App
The Latest Version of FlashLearners Jamb CBT App Introduces the following Updates…
Errors In Questions Solved
Introduction of Offline User Profile
Complete redesign of the leaderboard
High Score and Video Notifications
Get Discounts and Earn Using Coupon Codes
Updated UTME (and other exams) Challenge
Introduction of Educational Games
Lots of UI Re-design
Updated Questions and Answers
12 Reasons To Get Jamb CBT App
20k+ Questions Offline – Practice Jamb Jamb and Likely past questions from 24 Jamb subjects with detailed explanations. No Internet Connection Required to Learn.
Practice By Topics – Gain expertise in any topic by practicing questions from any topic of interest.
You can Practice Many subjects at once – You can practice all four subjects at a time.
Jamb Recommended Novels – Revise the recommended literature with over 350 likely questions
Voice (Text-To-Speech) – You can listen to questions and explanations in an interesting way.
Intelligent Personal Assistant – Get real-time advice on what topic to improve upon after each practice by voice.
Built-In Calculator – Use the built-in calculator to crunch numbers without leaving the exam interface.
Rich Result Analysis – Get a detailed analysis of how you perform on any exam.
Bookmarks – Bookmark any question that you wish to view later.
Decide Everything – Easily change the number of Questions, Exam year, exam time and exam Mode.
Does Not Expire – The Apk Continues to function as long as your phone, laptop or desktop stays alive!
No Subscription Fee – Once activated, forever activated for all subjects!
Subjects In FlashLeaners Jamb App
Jamb Sweet Sixteen Novel
Jamb Accounts
Agricultural Science
Jamb Arabic Answers
Jamb Biology Questions
Jamb Chemistry
Jamb Commerce Questions
Jamb CRK/CRS
Economics Jamb Questions
Fine Art Que And Ans
French Questions for Jamb
Jamb Geography
Jamb Government
History Questions for Jamb
Home Economics Questions
Jamb Igbo Answers
IRK Jamb Questions
Literature in English
Jamb Mathematics Questions
Jamb Use Of English Questions
Jamb Music Questions & Answers
Jamb Physics Questions And Answers
Jamb Yoruba Questions and Answers
Hausa Jamb Questions and Answers
Note: Flashlearners is NOT affiliated with JAMB. The questions are previous Jamb questions and are meant to help you practice for the real exam. Please do not request the actual questions because we do not have access to it and we will never make effort to do so.
Hope you found this page helpful. Feel free to share with others using the share buttons and don't fail to let me know how you feel using the comment box.