It is natural to feel anxious and stressed before the interview. However, you must calm down to be able to give your best at the interview. The thought of appearing for the first interview is quite exciting and stressful at the same time. From worrying about the proper outfit to fearing the questions that might be asked during the interview, students get anxious about their first interview.
Get Rid of Anxiety in Your First Interview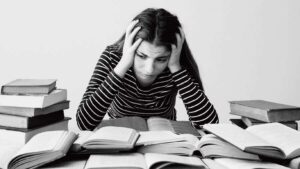 Here are how to get rid of anxiety in your first interview. So let's dive in:
1. Stop Questioning Your Confidence
It is completely natural to feel anxious before your first interview. No matter how confident someone looks or sounds while appearing for an interview, he/she is always nervous. You must remember that the company has read your CV and decided to call you for a face-to-face interview.
Out of the big stack of applicants, the company only invited a few for the interview. You must be confident as you've already beaten several other applicants with just your CV. Now is your chance to impress the interviewer in person. There is no reason why you should be questioning your confidence when an interviewer has shown interest in your profile. Go for it!
2. Practice Positive Self-talk
If you're feeling low and too nervous, motivate yourself. Believe us; you are the best motivational coach for yourself. Tell yourself about all the skills you have got to land this job. Positive self-talk is the mantra to conquer your biggest fears.
You must remind yourself of your best attributes. You must tell yourself that you have got it all under control. Give yourself an excellent pep-talk and say out loud that you're going to kill this interview.
3. Gather Relevant Knowledge
Now that you have earned yourself the first-ever interview, you must prepare for it well. Often students find themselves unprepared for the interview because they've been too worried thinking or fearing of how the interview would turn out. Firstly you must read and gather as much information about the company that you're interviewing for as possible.
You must research the role that you've applied for. This knowledge comes in handy when the interviewer starts shooting questions at you. As they say, Knowledge is power, and this knowledge helps you feel more confident. Moreover, you can research the work environment of the company you're interviewing for.
READ ALSO: INTERVIEW QUESTIONS FOR A FIRST-TIME JOB
4. Practice the General Interview Questions
There are a few questions that you should expect to hear on your first job interview. It is always a good idea to start practising basic questions well before the interview. This helps you put forward a very confident and positive personality during the interview. When you're prepared, the stress level comes down.
Here are some frequently asked questions that you must prepare before an interview.
Why do you want this job?
Why should we hire you?
How do you deal with stress and criticism?
Why do you want to be a part of our company?
5. Practice with a Family/Friend
Before you appear for your first interview, it is a good idea to let your friends and family help you. Ask a member of the family or a friend to play the role of an interviewer. Practice such interview sessions, these will help you figure out where you need to improve. Alternatively, you may seek the help of an interview counsellor.
Keep a note of things that need improvement and work on them. You must understand that the actual interview would be much more worrisome than practising with your family. Therefore, keep practising until you're super confident about your skills and personality.
6. Listen to the Music
Music is a great mood changer. Whenever you're too anxious thinking about the first interview, put on your headphones and dive into your favourite tracks. Let your mind and body enjoy the beats for a while and put other thoughts away. Different music genres work for different people.
You must listen to whatever your heart says, not caring about genre, lyrics or artists. Music can divert your mind away from worrisome thoughts. Moreover, it can relax your mood and take mental fatigue away. So the next time that you're stressed hit your Spotify.
7. Go Out for a Walk
Fresh air can help your mind relax. If you're feeling too stressed or anxious, you must get out of the bound areas and get into an open field. Take a walk in quiet surroundings or take a stroll through a nursery or park. If you prefer other physical exercises over walking, engage in those.
8. Meet Your Friends
For a student, no one knows and understands him/her better than a friend. If you are getting too anxious about the interview, call your close friend and meet him/her at your favourite hangout spot. No one knows better about your capabilities than your friends. Also, no one knows how to cheer you up better than your friend.
9. Don't Force Yourself and Smile
You must understand that anxiety won't go away by telling yourself, again and again, to be not anxious. Do not force yourself to stay cheerful too much. Feeling anxious is natural and should be dealt with naturally.
Smile: Sport a big and nice smile even if you do not mean it completely. Smiling relaxes your mind and boosts positive vibes.
10. Get Ample Sleep
You must sleep soundly the night before the interview. If you don't put off your thoughts and stay awake, you'll be tired and lousy during your interviews.
Even if your body does not need rest, your mind needs ample rest before such an important day. You need to look sharp and present at all times during the interview, and sound sleep is the key to that.
11. Eat Light and Healthy
On the day of the interview, you must eat a healthy and light breakfast. You do not want to be too full and uncomfortable during the interview. Moreover, unhealthy food can make you lazy and sleepy. You must never go hungry for an interview. You never know how long an interview can keep you occupied. Therefore, you must enjoy a healthy meal and seize your day.
I hope you find this article helpful.