This is to inform the general public and prospective students of the Godfrey Okoye University Enugu that the school management has reopened the 2023/2024 Godfrey Okoye University Post UTME registration portal.
Interested candidates are advised to purchase the registration form before the Godfrey Okoye University Post UTME form closing date for registration.
               Godfrey Okoye University Post UTME Form 2023/2024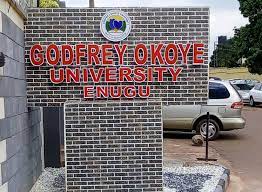 Eligibility Criteria
The basic requirements for full admission into the institution include:
An O'Level result boasts 5 credits in the required subjects of the chosen course of study, which must include English and Mathematics.
Candidates who initially did not select Godfrey Okoye University as their first choice are expected to effect a CHANGE OF INSTITUTION to make GOUNI their first choice.
Possession of a JAMB Admission Letter completes the admission process.
Admission Modes
Candidates can secure admission into the university via several routes:
Through UTME, given an appropriate JAMB score.
Via DIRECT ENTRY, with the 2023 JAMB Direct Entry Form.
Through JUPEB, provided the candidate has a satisfactory O'Level result.
Postgraduate Programme, available to those with a first Degree.
Admission Procedure
To apply, candidates must fill out and submit an online form. Within three working days of submission, a response will be sent to the candidate's email address (it is advised to provide an active address) indicating whether the admission was granted or not.
Candidates can apply for admission into any program in the Faculties of Arts; Education; Law; Management and Social Sciences; Natural Sciences, and Environmental Studies.
Completing the Application Process
The admission form is available for free. To request the Application form, click here.
Payment of Fees
Upon receiving the admission letter, candidates can commence the payment of various fees, including the Acceptance Fee, Tuition, ICT, and other associated fees (see attached Fee Structure). A guideline for online payment of fees is provided to streamline the process.
For inquiries, please call: 09134273215 | 09121963049 | 09121767243 or email: info@gouni.edu.ng, msnwachukwu@gouni.edu.ng, or chinedu@gouni.edu.ng.
Godfrey Okoye University welcomes all eligible and interested candidates to take advantage of this opportunity to join our esteemed institution. We look forward to receiving your applications.
I hope you find this article helpful.