The Governor's Award Bank of Canada Funded Scholarship in Canada is offered for a postdoc degree in Macroeconomics, Monetary economics, International Finance, Financial markets and Institutions, Labour Economics, and Economic growth. The deadline for sending your application is 30 Nov 2023. The scholarship is open to citizens and permanent residents of Canada.
The Governor's Award provides financial support to academics recognized for their expertise and research in areas important to the Bank's core functions.
The Bank of Canada, BoC (French: Banque du Canada), is Canada's central bank. The Bank was chartered by and under the Bank of Canada Act on July 3, 1934, as a privately owned corporation. In 1938, the Bank was legally designated a federal Crown corporation. The Minister of Finance holds the entire share capital issued by the bank. "The capital shall be divided into one hundred thousand shares of the par value of fifty dollars each, which shall be issued to the Minister to be held by the Minister on behalf of Her Majesty in right of Canada." The essential role of the Bank, as Canada's central bank, is to "promote the economic and financial well-being of Canada." More specifically, the responsibilities of the Bank are the formulation of monetary policy as the sole issuing authority of Canadian banknotes; the promotion of a safe, sound financial system within Canada; and funds management and central banking services "for the federal government, the Bank and other clients." The Bank of Canada headquarters are located at the Bank of Canada Building in the nation's capital, Ottawa. The edifice also houses the Currency Museum, which opened in December 1980.
Governor's Award Bank Of Canada Funded Scholarship In Canada 2024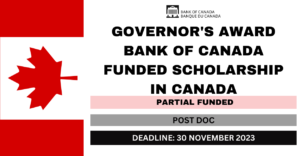 DEADLINE
30 November 2023
STUDY IN
Canada
PROVIDER
Bank Of Canada
STUDY LEVEL
Post Doc
SUBJECTS
Subjects offered by the university
FUNDING TYPE
Partial Scholarships
Scholarship Eligibility
The eligibility criteria for the Governor's Award Bank of Canada Funded Scholarship in Canada are stated below:
1. Applicants must be Canadian citizens, permanent residents of Canada, or be otherwise legally permitted to work in Canada.
2. Candidates should conduct and support research in Economics or Finance in Canada (nominations where most research is in Canada could also be considered).
3. Applicants should have obtained a PhD within ten years of their nomination.
4. A Canadian university must employ candidates in an associate or assistant professor position during the term of the Award.
Scholarship Benefits
The Fully Funded Governor's Award Bank of Canada Funded Scholarship in Canada will provide a $30,000 annual research grant for up to two years.
Others
Selection Criteria:
1. Demonstrated excellence and innovation in the nominee's work as indicated by publications and forthcoming articles in high-impact peer-reviewed journals as well as citations and references (i.e., commentaries/critiques), working papers, other research outputs, including books and book chapters, research grants and awards, and recognition by peers.
2. Demonstrated leadership within the discipline and/or academic institution(s) as indicated by mentoring, committee roles, collaboration, contribution to the education and development of new researchers, etc.
3. Applicability to Bank of Canada policy development or research, as indicated in a match of the nominee's written work and research plan with Bank plans and priorities and as expressed in the nomination materials.
I hope you find this article helpful.