Hussaini Adamu Federal Polytechnic (HAFEDPOLY), Kauzare, Jigawa State, offers National Diploma (ND) part-time programs tailored to meet the aspirations of many. This comprehensive guide will provide insights into the 2023/2024 part-time admission session.
HAFEDPOLY ND Part-Time Admission Form 2023/2024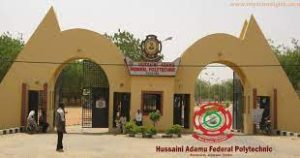 | | |
| --- | --- |
| 🎓 Admission Type | ND Part-Time, 2023/2024 Academic Session |
| 🏫 Institution | Hussaini Adamu Federal Polytechnic (HAFEDPOLY), Kauzare, Jigawa State |
| 📜 NBTE Accredited Programmes | ND in fields such as Polymer Technology, Computer Science, Engineering, Mass Communication, etc. |
| 🎨 Entrepreneurship Focus | Intensive training on skills and entrepreneurship |
| 📝 Application Link | apply.hafedpoly.edu.ng |
| 📞 Contact Numbers | 08036360578, 08023771055, 08036921823, 08037210419, 0803816779 |
| 🎫 Part-Time Scratch Card | Visit JAMB CBT Centre and buy scratch Card for part-time program |
Overview of Part-Time Programmes at HAFEDPOLY
Balancing work, personal life, and education can be challenging. HAFEDPOLY's ND part-time programs aim to provide opportunities for those who need a more flexible approach to their studies.
Accredited Programmes
HAFEDPOLY is proud to offer a variety of full NBTE accredited Programs at ND levels, catering to diverse interests and professional fields. Here's what you can choose from:
Technology and Engineering:

ND Polymer Technology
ND Computer Engineering
ND Electrical/Electronic Engineering
ND Civil Engineering
ND Mechatronics Engineering
ND Mechanical Engineering

Sciences and Agriculture:

ND SLT in Physics with Electronics option, Chemistry and Environmental Biology
ND Statistics
ND Fishery Technology
ND Agricultural Technology

Design and Communication:

ND Fashion Design and Clothing Technology
ND Mass Communication
ND Library and Information Science

Business and Management:

ND Quantity Surveying
ND Estate Management
ND Architectural Engineering
ND Accountancy (ND and HND levels)
ND Business Administration
ND Banking and Finance
ND Hospitality Management
ND Public Administration
ND Building Technology
ND Urban and Regional Planning
Skills and Entrepreneurship Training
In line with contemporary demands, HAFEDPOLY also provides intensive training on skills and entrepreneurship. This focus ensures that students are not only academically qualified but are also equipped with practical skills to excel in their respective fields.
Application Process
The application process is made convenient to ensure a smooth experience for prospective students.
How to Apply?
Visit the HAFEDPOLY application portal.
Candidates for part-time can also visit a JAMB CBT Centre and purchase a scratch Card specifically for the part-time program.
For further enquiries or assistance with the application process, please contact the following numbers:
08036360578
08023771055
08036921823
08037210419
0803816779
Conclusion
Whether you are a working professional, a business owner, or someone looking to advance your education while managing other responsibilities, HAFEDPOLY's part-time programmes could be the right fit for you.
Seize the opportunity to transform your future; apply today to be part of HAFEDPOLY's diverse and dynamic community!
I hope you find this articule helpful.