Listing field-specific hard skills on your resume can help you present yourself as a qualified candidate when applying for a job. You can highlight these skills to show employers your technical abilities and knowledge of the role or industry. Knowing what hard skills to include on your resume can help you showcase your qualifications and distinguish yourself from other candidates.
In this article, we discuss what hard skills are, provide examples of hard skills in various industries and offer tips to help you showcase these skills on your resume.
What are hard skills?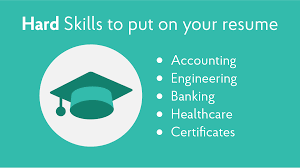 Hard skills are abilities you gain through education, training and experience that often relate directly to a specific job or industry. You may also develop these skills through more informal methods, such as pursuing hobbies or interests related to those skills. Hard skills differ from soft skills, also known as interpersonal skills. These are more general traits that apply to a wide range of jobs, such as communication and problem-solving.
Hard skills are important because employers may require you to have them for certain positions. When preparing to work in the career path of your choice, it's beneficial to examine the most common hard skills companies list in job postings so you can develop key skills for your field. Developing these skills can prepare you for more professional opportunities or advancements
Examples of hard skills
Here are some common hard skills across various industries, along with explanations of what they are and how they help in a professional setting:
1. Automotive servicing
Automotive servicing skills are the ability to perform maintenance on a car, truck, SUV or similar vehicle. Servicing may include assessing the state of a vehicle to identify problems and determine solutions. You can develop specialized automotive servicing skills, such as working exclusively on tractor-trailers or restoring auto bodies after accidents. Some examples of automotive servicing skills include:
Vehicle inspections

Diagnostic testing

Auto body repair

Preventative vehicle maintenance

Computer systems
2. Project management
Project management skills are the technical abilities professionals use to plan, implement and complete projects. These skills can be beneficial if you lead or work on project teams to help you achieve successful project outcomes. Many professionals use project management skills in various industries, such as IT, construction and manufacturing. Some project management skills to include on your resume are:
Budgeting

Risk analysis

Scheduling

Agile methodologies

Performance tracking
3. Carpentry
Carpentry skills involve working with wood and other materials to create structures or frameworks. You may include carpentry skills on your resume to demonstrate an ability to work with your hands. Carpentry skills often apply in industries like construction, but a carpenter may also work on contract jobs with companies in other industries that require specific builds or projects. Examples of carpentry skills include:
Power tools

Blueprint reading

Building layout and design

Scribing

Safety compliance
4. Copywriting
The ability to craft engaging copy that aligns with a client's needs is a versatile skill that may apply across a broad range of industries. You can use copywriting skills in a variety of ways throughout your professional career, from writing advertising copy on a sales page to ghostwriting articles or books for companies or other professionals. You can specialize in a specific industry or on a specialized topic, such as business or nutrition. Some examples of copywriting skills are:
Editing

Content management

Grammar

Research

Interviewing
5. Digital Security
As technology becomes increasingly important, the need for digital security continues to grow. Being skilled in digital security shows a potential employer you understand best practices for operating devices and setting up digital networks. This knowledge also gives you the ability to protect your company from hackers and prevent data breaches or financial theft. Some digital security skills include:
Operating systems

Network Administration

Scripting

Intrusion detection software

Cloud security
6. Foreign languages
Being multilingual is a valuable skill in many professions, particularly when working in areas with higher numbers of non-English speakers. Possessing the ability to speak multiple languages allows you to communicate and connect with a wider range of clients or customers, increasing your value in your position. When listing a foreign language as a hard skill, list the language or languages you know and the level of fluency you possess.
7. Graphic design
Graphic design abilities allow you to create appealing designs using text, images and other elements. It's an important skill if you wish to work in fields like marketing or advertising because it has a large part in both establishing a company brand and creating effective campaigns. When listing graphic design as a hard skill on your resume, cite the programs you use or the type of designs you create. Examples of graphic design skills include:
User experience (UX) design

Typography

Data visualization

Photo Composition

Print layout
8. Economics
Professionals knowledgeable in economics can understand market trends and economic principles as they apply to the general economy. Many financial professionals, such as financial advisers and financial research analysts, possess excellent economics skills. Economics may also help you seek a job in politics as a policy adviser, as it allows you to analyze the financial effects of proposed bills to guide a politician or party on policy decisions. Some examples of economic skills include:
Supply and demand

Data analysis

Cost-benefit analysis

Taxation

Trade and exchange rates
9. Photo editing
Photo editing skills indicate you can take a photograph and edit it using photo software or other techniques. These skills allow you to make a photo as aesthetically appealing as possible using various techniques, such as color adjustment and cropping. Photo editing is a popular hard skill for professionals working in creative fields. On your resume, some photo editing skills to feature may include:
Editing software

Photo retouching

Color correction

Editorial images

Photography
10. Programming
Computer programming is the ability to write code for software, programs and applications. Programming is a core component of many development positions, such as software, security and web development. When listing this skill on your resume, you can include the programming language you know and your proficiency level. Other examples of programming skills include:
Database management

Text editors

Web development

Systems analysis

Full-stack development
11. Search engine optimization
Search engine optimization (SEO) is the process of customizing content on a webpage to make it rank higher in search engine results. Often, an SEO specialist targets specific keywords when creating or updating content on a website. With the increasing importance of online marketing, search engine optimization is a valuable and important skill if you're seeking opportunities in the marketing field or other related areas, such as content creation or web development. Examples of SEO skills include:
Search engine marketing

Keyword research

SEO tools

Social media

Content strategy
12. Video editing
Video editing is the ability to adjust footage into a final coherent video. Video editing skills allow you to analyze the needs of a scene or a piece and choose the best shots and cuts to tell the intended story or message. You can use video editing skills to work in film or television or edit content for a company's web presence or marketing efforts. Some examples of video editing skills are:
Video post-production

2D and 3D animation

Scripting

Sound effects

Digital asset management
15 other hard skills for your resume
Hard skills exist across all industries, with many skills that are common to a broad range of fields. Other hard skills are specialties, which are valuable in a smaller range of professions but often have a higher value within those fields. Additional hard skills include:
Accounting

Acting

Machine learning

Cinematography

Civil engineering

Plumbing

Contract writing

Data entry

Financial modeling

Nursing

Encryption

Home inspection

Illustration

Interior design

Health care administration
Tips for including hard skills on your resume
Here are some tips to help you feature hard skills on your resume to show employers your qualifications for a position:
Highlight your top skills. Rather than trying to list all your hard skills on your resume, choose the top skills that are relevant to the position or industry. Highlighting these skills can help you keep your resume concise.

Match your skills to the job. Review the job description to determine the skills an employer is seeking and include those same skills on your resume if you have them. Customize your resume for each job to show employers how your hard skills align with the position.

Show the results of your skills. On your resume, use facts and statistics to show the results of your skills and experience. Providing quantifiable data can help you show employers how you may use your skills to achieve similar success in a new position.
I hope you find this article helpful.