The Fully Funded HISA UN SDGs Forum Fellowship in Thailand accepts international applications. It will take place in Bangkok, Thailand. The duration of this youth forum is four days. This event focuses on the United Nations SDGs to make the world better. The main goals of this UN SDG forum are to work on capacity building, empowerment, sustainable impact, and global collaboration. The program will train global youth on the SDGs and inspire them to act on these goals in their communities.
The participants of this United Nations youth will attend sessions on international law, sustainability, economic development, human rights advocacy, philanthropy, and impact investing strategies for addressing systemic poverty and inequality among vulnerable populations worldwide at this one-of-a-kind conference. The participants will explore recent developments in social entrepreneurship-related global governance. Through creative ideas, these initiatives impact communities across the globe. The goal is to promote cross-border, sustainable growth.
Fully Funded HISA UN SDGs Forum Fellowship in Thailand 2024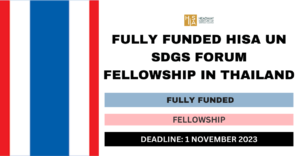 DEADLINE
1 November 2023
STUDY IN
Thailand
PROVIDER
Hisa
STUDY LEVEL
Fellowship
SUBJECTS
Subjects offered by the university
FUNDING TYPE
Partial Scholarships, Fully Funded Scholarships
Scholarship Eligibility
The eligibility criteria for the Fully Funded HISA UN SDGs Forum Fellowship in Thailand are stated below:
1. Anyone from any background can apply for this opportunity.

2. The candidate must be over 18 years of age.
3. The candidate must be able to communicate in English.
4. People from all backgrounds can apply.
5. Passionate to contribute to the development of new ideas.
Scholarship Benefits
The benefits of the Fully Funded HISA UN SDGs Forum Fellowship in Thailand are:
1. Fully Funded Seats
2. Partially Funded Seats
3. Shared accommodation
4. Three-time meals per day
5. Fellowship Merchandise
6. All-access pass to the USF 2024
7. You will get the opportunity to interact with like-minded people around the globe
8. Graduation certificates that would be a great addition to your career profile
9. Your professional skills will be polished in different dimensions
10. Chance to explore Thai culture
Others
How to apply?
1. Applicants have to apply through the official website.
2. Complete the USF 2024 registration form.
3. You must provide basic information, including name, date of birth, address, and other related details.
4. Upload your picture and pictorial representation of your past social work.
5. Fill out the Scholarship section if you're applying for the Fully Funded spot.
6. The HISA program team will contact shortlisted applicants for further evaluation based on the motivation demonstrated in the application.
I hope you find this article helpful.