You probably have eaten puff puff countless times at home, parties, and even brought from roadside vendors but you don't know how to make those golden brown, fluffy on the inside, slightly crunchy on the outside, irresistible and popular snack. Little worry, in this article, I will show you the perfect guide on how to make puff puff in a simple and delightful way.  Let's quickly get all the details on how to make puff puff.
What is Puff Puff?
Puff Puff is a popular and delightful deep-fried snack that originated in West Africa, particularly Nigeria, Cameroon, and Ghana. The Liberians, Congolese, and other West and Central African countries equally enjoy it. Right now, its popularity has spread beyond Africa to other parts of the world.
It is good to let you know puff puff is made from a simple batter consisting of four basic ingredients: flour, sugar, yeast, water, and sometimes other flavorings like nutmeg, cinnamon, or chili pepper. Puff Puff is often sold as street food, at parties, and family gatherings, where it is enjoyed by people of all ages and backgrounds. The crispy and golden exterior with a soft, pillowy interior makes it an irresistible treat for many.
What Are The Other Names of Puff Puff
In Nigeria, puff Puff is known by several names depending on the region and local dialects. Some of the other names for puff puff include:
Bofrot: This name is commonly used in Ghana as well, where puff puff is also a beloved treat.
Mikate: This term is used in Cameroon to refer to a similar fried dough snack.
Kala/Kolo: These names are used in the northern parts of Nigeria and other African countries to refer to puff puff.
Beinye: This name is used to refer to puff puff.
Recommended
9 Quick and Healthy Breakfast Ideas for Nigerian Students
10 Healthy College Meals You Can Afford to Prepare Yourself
Nutritional Benefits of  Puff Puff
Puff puff is a tasty and popular snack, but it is important to note that it is a deep-fried treat and can be enjoyed in moderation as part of a balanced diet. Depending on how you make puff puff and your dietary needs, it does provide some macronutrients and energy:
Carbohydrates: Puff puff is primarily made from flour, sugar, and water, which are all sources of carbohydrates. Carbohydrates are the body's main source of energy.
Fats: Puff puff absorbs some oil during the frying process, adding a small amount of fat to the snack. Fats are also a source of energy and play various essential roles in the body.
Calories: Due to its carbohydrate and fat content, puff puff is relatively high in calories. It can be an energy snack.
Protein: While there is a small amount of protein from the flour used in puff puff, you can get more protein when you add ingredients like diced chicken, fish, or peas.
Micronutrients: Puff puff does not offer significant amounts of essential vitamins and minerals. However, the addition of ground nutmeg or cinnamon (as mentioned in the optional ingredients) could provide some trace nutrients and antioxidants.
As a snack, Puff Puff should be enjoyed in moderation as part of a balanced diet, with an emphasis on nutrient-rich foods like fruits, vegetables, whole grains, lean proteins, and healthy fats for overall nutritional benefits.
How to Make Puff Puff
First, I need to let you know you can make puff puff just the way you want to have it. This means there can be variations and substitutions of ingredients. However, how to make puff puff, you will need four basic ingredients.
Here are some vital notes to consider for your recipe:
Flour: Use all-purpose flour
Sugar: Granulated sugar works perfectly
Yeast: Use active dry yeast or fast-rising yeast if you want the dough to rise quickly.
Salt: Always remember to add salt to balance the sweetness.
Other ingredients include the optional ones aside from vegetable oil you will need for deep frying.
Step One On How to Make Puff Puff
Measure out all the required Ingredients:
2 cups all-purpose flour
1/2 cup granulated sugar
1 teaspoon active dry yeast
1 cup warm water
1/2 teaspoon salt
1/2 teaspoon ground nutmeg or cinnamon (optional)
Vegetable oil for deep frying
Next Steps On How to Make Puff Puff
In a small bowl, dissolve the sugar in warm water and then add the yeast to the water. Let it sit for about 5 minutes until it becomes foamy. This indicates that the yeast is active.
Mix the dry ingredients in a large bowl, the flour, salt, and ground nutmeg or cinnamon (if using). Mix well using your bare hands
Slowly pour the yeast mixture into the bowl with the dry ingredients while stirring. Mix until you have a smooth, thick batter. The consistency should be slightly thicker than pancake batter. If it's too thick, add a little more warm water; if it's too thin, add a bit more flour.
Cover the bowl with a clean kitchen towel or plastic wrap and leave it in a warm place for about 1 to 2 hours to allow the batter to rise and ferment. The batter should double in size during this time.
In a deep, heavy-bottomed pot, pour enough vegetable oil to submerge the puff puff balls while frying. Heat the oil over medium heat until it is hot but not too hot (around 350°F or 180°C). You can add a little batter, if it fries immediately, the oil is hot enough.
Then begin to use your hands to scoop some batter into the hot oil. If this doesn't work for you, you can use a spoon to scoop. You can make the balls as big or as small as you prefer. Fry them in batches, making sure not to overcrowd the pot. Turn them occasionally to ensure even cooking. Fry until they are golden brown on all sides.
Use a frying spoon to remove the fried puff puff from the oil and place them on a plate lined with paper towels to absorb excess oil. Allow them to cool slightly before serving.
Serving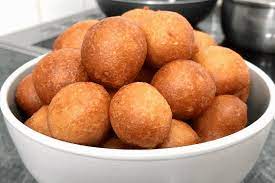 Puff is best served warm and you can eat it as a snack or a delicious accompaniment with Pap, Custard, or your favorite beverages. Try making puff puff yourself soon, you will discover it is not a big deal if you follow this perfect guide.  I hope you got value.