The launch of ChatGPT to the public last November 2022 took the world by storm. Just two months after its launch, the new AI language model's chat interface gained over 100 million active users, breaking by far the record of fastest growing consumer app out there.
ChatGPT is growing and improving every single day: with the latest GPT-4 model released in March 2023, the possibilities seem endless.
There is so much potential in this new AI chatbot that users get overwhelmed with choices!
The thing is that ChatGPT doesn't come with a user manual: to take advantage of this AI to its fullest potential, you need to know what to ask.
This is what we will uncover today: how can you use ChatGPT in the best way?
More specifically, this article focuses on business owners, entrepreneurs, creators and coaches – and how they can learn to navigate ChatGPT to automate and improve processes in their businesses.
What is ChatGPT?
ChatGPT is an AI large language model developed by OpenAI, based on the GPT architecture (Generative Pre-trained Transformer).
The AI is designed to generate human-like responses to language prompts or questions, and can be used for various tasks, including language translation, content generation, and human-like conversation – you name it! It can even compose music and write computer programs!
ChatGPT was trained on a massive amount of text data, which allowed it to learn patterns and structures of language and generate coherent and meaningful responses.
What is a ChatGPT Prompt?
To be able to communicate with the AI and get the answers you are looking for, you need to write out a prompt.
A prompt in ChatGPT refers to the text input that a user provides to initiate a conversation or request a response. The prompt is the starting point for Ai's response and can be any text-based input, such as a question, a statement, or a keyword.
Based on the prompt provided, ChatGPT generates a response using its trained knowledge and understanding of the English language, context, and common sense.
The more detailed and specific the prompt is, the more accurate and relevant the response from ChatGPT is likely to be.
Keep reading until the end of the article to learn how to come up with the best prompts for ChatGPT. For now, let's see how entrepreneurs and creators can use Chat GPT in their businesses!
How to Use Chat GPT in Your Business
Many people are scared of the effects that AI will have on jobs, businesses and society. While this new technology is definitely a game changer in the way we operate, it doesn't necessarily have to be a threat.
ChatGPT and AI in general can become your business ally and help you automate tedious tasks in your day-to-day operations. Below are our top ideas of how to use ChatGPT in your business: from helping you with a marketing strategy, writing copy, getting inspiration and simplifying your business tasks.
Use ChatGPT to Write Copy For Marketing Campaigns
What ChatGPT does best is writing and generating text. This is also a big task for every solopreneur and business owner. You need to write copy to describe the products you are selling, develop key messages to communicate with clients, advertise your business to your target audience, craft promotional emails and so on…
If you are not born a copywriter, it can be challenging to always develop enticing, informative text to promote your business.
ChatGPT is extremely versatile in what you can ask it: in this example, you can start from a pre-written draft and ask it to optimize it, or simply let ChatGPT come up with complete marketing copy for you.
The key here is to provide ChatGPT with as much detail as possible about what you are trying to achieve or the resulting response may be generic or even incorrect (we will explain more about this at the end of this article).
So let's see an example of this.
Let's say that you need to write the copy description for an Instagram ad promoting your brand. In the example below, I asked ChatGPT to write a post promoting an e-commerce clothing brand.
Here is the prompt:
"You are an expert copywriter working for a fashion e-commerce brand called ABC that is selling trendy women's clothes.
Can you help me write the marketing copy for an ad campaign on Instagram? Write the Instagram post description for an ad selling women's clothes.
Here are our main selling points:
the clothes are made from sustainable materials
they are comfortable and trendy
we offer free worldwide shipping"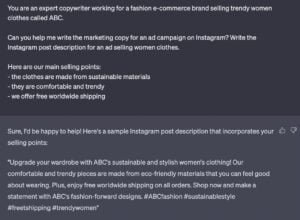 ChatGPT even wrote relevant hashtags for the Instagram post!
Use ChatGPT to Come Up With New Content Ideas
Another great way to use ChatGPT is to generate new content ideas for your organic marketing strategy. Maybe you need the inspiration to come up with new topics for your blog posts, YouTube videos or podcast episodes.
That said, remember that ChatGPT was trained with internet data up until 2021, so it might not be the best tool to understand which topics are trending right now.
For that, always refer to tools like Google Trends or other SEO platforms to analyze real-time data from what users are searching for on the internet.
Let's test this prompt on ChatGPT. We asked the AI: "Can you help me come up with new topic ideas for my blog? The main focus of my blog is around dog training, and it helps dog owners train and get a better relationship with their dogs.
Come up with 5 blog post ideas and briefly describe the content of each post."
Ask Chat GPT to Generate an Outline for Your Blog Post
Once you have settled on a blog post topic, you can use ChatGPT to help you generate a potential outline to structure your blog post.
This can help you write blog posts faster and even get new ideas about topics to cover that you might not have thought of.
Let's test this on ChatGPT by asking: "I have to write a blog post titled "How to Keep Flowers Fresh Longer." Can you help me draft an outline for this blog post?"
Use ChatGPT to Write Click-Worthy Titles for YouTube Videos
If you have a YouTube channel, you know how important the title of a video is to attract viewers' attention and make sure that they click on it!
If you are out of ideas, why not ask ChatGPT?
Remember that it is important to offer ChatGPT as much detail as you can about the content of your video and how it can help viewers.
Here is what we asked the AI: "Can you help me write a catchy title for my next YouTube video? In the video, I show 5 meditation techniques to help people relieve stress and feel better every day. The title of the video should be relevant to its content, attention-grabbing and click-worthy."
Ask ChatGPT to Create a Social Media Content Plan
Posting every day on Instagram, Facebook, TikTok, Twitter, you name it… can feel like a chore, and you might find yourself out of ideas for your next post.
If this is the case, ChatGPT can help you get inspiration for the new social media post or even generate a whole content plan for your social media marketing strategy.
Let's see an example of how this works.
We asked the AI: "I need help with ideas for my upcoming social media posts. I run a coaching business teaching business owners and executives how to be more productive in their day-to-day lives.
Can you help me come up with a 1-week plan of posts for my Instagram page? (I want to post one time per day).
Starting from Monday, describe the type of posts, their content, graphics and style."
Use ChatGPT to Write Cold Emails
Writing cold emails to strangers is hard! If you have ever tried cold emailing new prospects to promote your business, you know that what you write in the email can make all the difference.
So if you need some extra guidance with your cold emails, try to ask ChatGPT to either review your text, make it more approachable or even write a cold email from scratch.
In this case, the prompt for ChatGPT should be very detailed, as you need to direct the artificial intelligence to the best result for your business.
Here is an example prompt we gave ChatGPT:
"I am a freelance web designer, and I need help writing a cold email to gain new clients. My ideal client is local business owners who need a new website for their businesses. I will send this email to business owners in my local areas who already have a website but could be improved.
Here are the biggest pain points of my ideal clients:
Their current website is not converting
Their current website is not showing up on Google searches
They are not good at web design
They cannot afford a more established web design agency
Here are my main selling points:
With a new website, their business will be able to attract new clients
I have worked with many other businesses in the same area
I can create beautiful websites that convert, and my rates are lower than most web design agencies
Can you help me write a cold email that attracts the prospect's attention?
The email should be short and to the point and direct them to book a free consultation with me."
Here is what ChatGPT came up with:
The email that ChatGPT generated is pretty good, but not perfect. In this case, remember that you can always ask it to tweak something in its response and regenerate a different answer.
Use ChatGPT to Create Transcripts for Your YouTube Videos
Another idea to use ChatGPT for marketing is to have artificial intelligence help you write a transcript for your next YouTube video.
This works well with shorter YouTube videos, as ChatGPT has a limit on how many words it can generate in its answers.
We asked ChatGPT to help us come up with a transcript for a video about word-of-mouth marketing. Here is the prompt we used:
"Can you help me draft a transcript for my next YouTube video? The title of the video is: "Why every entrepreneur should leverage word-of-mouth marketing"
The video should be 5 minutes long and explain the benefits of word-of-mouth marketing in a fun, friendly and entertaining way."