How To Write A Table Of Contents In APA Format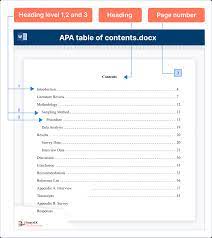 APA style does not require a table of contents, but there are cases where you may need to include one. For example, your instructor may specify that your paper must be submitted with a table of contents. In a thesis or dissertation, the table of contents comes between your abstract and your introduction. It should be written in the same font and size as the rest of your text (usually 12 pt Times New Roman). At the top of the page, write Contents, centered and in bold. This article shall explore how to write a table of contents in APA format.
In APA Style, you can use up to five levels of heading, each with its own formatting style. In the table of contents, you should include all level 1 and 2 headings, left-aligned and formatted as plain text. Level 2 headings are indented. Including lower-level headings in the table of contents is optional. Add an additional indent for each level. If you have a lot of headings in your text, you may not be able to include them all—your table of contents should not be more than two pages long in total.
APA style is the official publication style of the American Psychological Association. APA style is used in psychology courses as well as other social science classes including those in social science, behavioral sciences, and education.
General Guidelines
The table of contents serves as a basic roadmap for your paper. It should list all of the major headings and subheadings within the body of your paper. For a standard psychology paper, it might include listings for the introduction, method, results, and discussion sections of your paper.
While the APA may not specify guidelines for a table of contents, you should also use basic APA format for page formatting:
Use one-inch margins on all sides
Use 12-point Times New Roman font
Double-space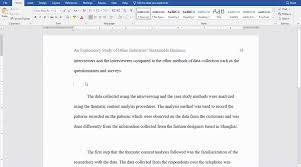 Since APA does not require a table of contents, you should always refer to your instructor's guidelines when deciding whether or not to include one.
It is also important to note that the 7th edition of the Publication Manual of the American Psychological Association was published in October 2019, a decade after the release of the previous edition. The 7th edition includes updated guidelines on many topics. Ask your instructor which version of the style manual you should adhere to when writing your paper until the latest version has been fully adopted.
Also note, while the previous edition of the style manual required a running head on each page of a paper, the 7th edition has eliminated that requirement on student papers unless your instructor specifies to include it. Always ask first.
Sections
If you are using a standard APA paper format, your table of contents should include the following sections:
Introduction
Method
Results
Discussion
References
However, the sections of your paper may be different depending on the type of paper you are writing. While the above format may work well for a standard lab report or experimental paper, your table of contents will look much different if you are writing something such as a critique, essay, research paper, or case study.
Location
The exact order of your paper depends largely on the type of paper you are writing. In general, your paper should be presented in the following order:
Title Page
Table of Contents
Abstract
Main Body of Paper
References
Appendix
Table of Contents Format
Because there is no standard format for a table of contents in APA style, you should always defer to the provided guidelines for your assignment.
If your instructor does not have a preferred format, consider using the following:
Title the page "Table of Contents" and center the title at the top of the page.
Use an outline format for the different sections of your paper. For the main headings, use Roman numerals. Follow by using Arabic numerals to list any sub-level headings. If you have lower-level headings, list them using lower-case letters.
All main headings should be flush-left.
Sub-headings should be indented five spaces.
All entries should use a title case.
Identify the page number where each heading and subheading begin flush-right. Include dot leaders between the headings and the page number to improve readability.
Tips
While you might not think that following the APA format is important, it is one of those areas where students can lose points for making small errors. It pays to spend a little extra time and attention making sure that your paper is formatted in proper APA style.
If you need help, you can get assistance from your school's writing lab.
Getting your own copy of the latest edition of the APA publication manual can be very helpful.
Always refer to any instructions or guidelines that were provided by your course instructor.
For those writing a paper to submit for publication, check with the publisher for any specific formatting requirements that they may have.
I hope you find this article helpful as well as interesting.