Iconic Open University Sokoto is pleased to invite applications from qualified individuals for admission into its degree programs for the 2023/2024 academic session. As a renowned institution, we offer a wide range of undergraduate programs designed to equip students with the knowledge and skills necessary for their future careers. In this article, we shall outline the available programs, and admission requirements, and provide a comprehensive guide on the application and registration process.
Iconic Open University Post UTME Screening Form 2023/2024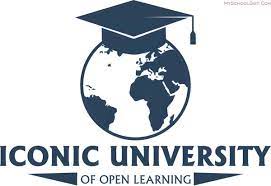 Undergraduate Programs:
Iconic Open University Sokoto offers the following undergraduate programs for the 2023/2024 academic session:
B.A. Arabic Language
B.A. English Language & Literature
B.A. Islamic Studies
B.Ed. Educational Management
B.HIM. Health Information Management
B.N.Sc. Nursing Science
B.Sc. Accounting
B.Sc. Business Administration
B.Sc. Community Health
B.Sc. Computer & Information Technology
B.Sc. Criminology & Security Studies
B.Sc. International Relations & Diplomacy
B.Sc. Mass Communication
B.Sc. Public Administration
B.Sc. Public Health
B.Sc. Software Engineering
Admission Requirements:
At Iconic Open University Sokoto, admission into our bachelor's degree programs does not require a JAMB result. However, upon successful admission, candidates will be required to obtain a JAMB regularization number to be used for their NYSC at the time of graduation.
Our admission is open to candidates of all religions, ethnic groups, genders, creeds, and disability statuses. To be eligible for admission, applicants must meet the following requirements:
READ ALSO: ARTHUR JARVIS UNIVERSITY POST-UTME SCREENING
HAVE YOU USED OUR JAMB TOOL YET? IT PROVIDES YOUR JAMB COMBINATION FOR FREE
Tier 1:
Possession of Senior Secondary Certificate Examination (SSCE) i.e., WAEC, NECO, NABTEB, NBAIS, or any other recognized foreign equivalent certificate, National Diploma (ND), NCE, or HND.
Tier 2:
Obtain a minimum of five (5) credits at SSCE (or equivalent) in relevant subjects, including English and Mathematics, in not more than two sittings.
Tier 3:
For admission by direct entry (200 Level), candidates must have five (5) SSCE credits and at least two (2) A' level passes in relevant subjects or possess an NCE, ND with credit passes, or hold a good bachelor's degree in another field. Candidates for B.Sc. Nursing Science must possess a registered Nursing Certificate and candidates for B.Sc. Community Health must have a Community Health Extension Worker license.
Tier 4:
Candidates with an HND in a related course will be admitted to the 300 Level, while other HND candidates will be admitted to the 200 Level.
Tier 5:
Candidates with a good bachelor's degree in a related field will be admitted into the university for a top-up degree, starting from the 400 Level.
Application and Registration Process:
Step 1: Application Process
Visit the Iconic Open University Sokoto website at www.iconicuniversity.edu.ng
Click on the "Apply Now" button in the header of the homepage
Complete the electronic application form, agreeing to the terms and conditions
Check your email for a confirmation link and activate your account
Step 2:
After email confirmation, make the payment for the application fees using the provided payment link
Proceed to the application form and upload a passport photograph along with credential documents in a single PDF file
Select your preferred program, semester of admission (fall or spring), and level (for direct entry candidates)
View the admission requirements to ensure you meet the compulsory subjects criteria
Step 3:
Wait for review and confirmation of admission from the Registrar, regularly checking your email
Once admission is confirmed, log into your account to proceed with documentation and admission confirmation
Print your admission letter and pay the required fees using the generated payment link
Complete the course registration process to finalize your enrollment
Step 4:
Document Submission (if applicable)
Send all required documents to the University by post or in person
Unattested certificates are accepted during the admission application process, but attested documents must be submitted before the commencement of the second year of studies
The University will provide you with the necessary details and postal address once you are approved for admission
Registration Process:
To complete the registration process at Iconic Open University Sokoto, follow these steps:
Step 1:
Make the payment for the course fees
Use the online payment system generated by the University to make a direct payment with a credit or debit card
Wait for a confirmation email from the Bursary Department
After payment confirmation, proceed to course registration
Step 2:
Click on "Course Registration" to view the list of compulsory courses for the semester (for new students) or select courses from the drop-down menu (for continuing students), including any failed courses if applicable
Click "Submit" when done selecting the courses
Step 3:
Review the selected courses on the fresh page
Ensure you have chosen the required courses
The total credit hours for the registered courses per semester should not be less than 15
Click "Complete Registration" after cross-checking the course selection
Access your course materials, including tests and assignments
In summary, the iconic Open University Sokoto offers a diverse range of undergraduate programs for the 2023/2024 academic session. Prospective students can join this esteemed institution by following the outlined admission requirements and the step-by-step application and registration process. Prepare yourself for a rewarding educational experience at Iconic Open University Sokoto, where knowledge and skills are nurtured to shape the leaders of tomorrow.
I hope you find this article helpful.