The Institute Institute of Ecumenical Education is open to potential and public candidates and is renowned for producing ecumenically minded teachers. These specialists are prepared to provide pupils with extensive educational opportunities up to the post-primary level. They can also have constructive conversations with people with different value systems, regardless of their educational background, nationality, ethnicity, or religion.
Institute of Ecumenical Education (IECE) Post UTME Form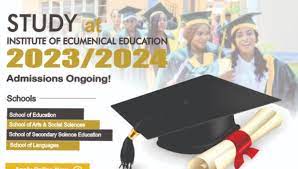 Programs Available for 2023/2024 NCE Admission
To offer a comprehensive education in various fields, the IECE offers a wide variety of programs. The following programs are accessible for NCE Admission 2023/2024:
Biology/Integrated Science
Biology/Physics
Business Education
Primary Education
Chemistry/Integrated Science
Christian Religious Studies/Social Studies
Computer Science/English
Computer Science/Mathematics
Economics/English
English/Igbo
English/Political Science
English/Social Science
Music
Political Science/Social Studies
Adult and Non-Formal Education
Entry Requirement for NCE Regular Programmes
The SSCE/NECO/GCE O'Level or an equivalent certificate with a credit pass in five subjects, including Mathematics and English Language, is required for candidates. These three subjects must be taken for four credits in two sittings or three credits in one sitting. The course the candidates want to take must be covered by two of the credits. The candidate must also have TCII credit or merit in three subjects, two of which must be related to their field of expertise.
READ ALSO: EDO STATE POLYTECHNIC POST-UTME FORM
JAMB Requirements
To be qualified to apply to the IECE, candidates must have a score of a minimum of 100 on the Unified Tertiary Matriculation Examination (UTME), administered by JAMB.
I Did Not Choose IECE, Can I Apply
Yes, applicants who did not initially select the IECE are still eligible to apply. To change institutions, individuals would need to submit an online application to JAMB. JAMB will post the candidate to the Institute on the advice of the IECE.
How Do I Complete the Application Process
The steps below can be used by applicants to finish the application process:
Payment
N5,000 must be transferred to the Institute of Ecumenical Education's account at one of the following banks to cover the cost of the application
Umuchinemere Micro Finance Bank (only in Enugu): 1010201533
First Bank PLC: 2019175771
Polaris Bank PLC: 1771161030
Guaranty Trust Bank (GTB): 0128256478
Zenith Bank PLC: 1010375960
Take the payment receipt to the finance office along with the receipt and form. Candidates will be given an admissions form, and the teller will be transformed into an official school receipt.
Registration
Go to the IECE admission office to register, complete any necessary paperwork, and learn about further prerequisites.
As an alternative, the following places will provide admission forms:
Nursery and Primary School of St. Theresa Akabo High School Akabo, Ikeduru L.G.A. Imo State,
Iyiokwu, Abakaliki, Ebonyi State,
Isuochi Secondary School, Umunneochi L.G.A., Abia State,
Akabo, Ikeduru L.G.A. Imo State,
Great Early Life International School, No. 12 Frankmoore Street, Nkpor, Behind New Tyre Market, Nkpor, Anambra State.
In summary, candidates can successfully apply and increase their chances of getting accepted into the prestigious Institute of Ecumenical Education by following these instructions for the 2023/2024 academic session.
I hope you find this article helpful.