In tribute to Miss Jemila Abubakar, the Asido Foundation's esteemed program manager who passed away in July 2020, the Jemila Abubakar Memorial Essay Competition 2024 is now accepting entries. This competition stands as a testament to her enduring legacy, focusing on a cause close to her heart—mental health awareness.
Jemila Abubakar Memorial Essay Competition 2024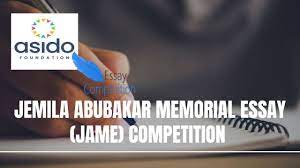 Who Can Apply?
If you're an undergraduate in any of Nigeria's tertiary institutions—be it a university, polytechnic, college of education, mono-technic, or school of nursing—this is your call to action. The competition is seeking your insights on a pertinent issue: "Digital Mental Health Tools for Students."
Are You Eligible?
To be part of this inspiring competition:
You must be enrolled as an undergraduate at a Nigerian tertiary institution.
Be ready to present evidence of your current enrolment.
Sign the Asido Foundation's "Unashamed pledge," affirming your commitment to mental health advocacy.
RECOMMENDED: MRCG DOCTORAL TRAINING PROGRAM SCHOLARSHIPS 2023
Benefits 
Prizes are on the line for the brightest essays:
1st Place:

 Walk away with ₦200,000

2nd Place:

 Secure ₦150,000

3rd Place:

 Earn ₦100,000
Plus, the top 15 entrants will embark on a journey of growth through an exclusive mentorship program.
Essay Submission
Here's how you can submit your essay:
Essays should be 

between 750 to 1500 words

—thoughtful, engaging, and on-topic.

Visit the submission link

 here for detailed information and to upload your essay.
Attach a 

scanned recent passport photograph

 and evidence of your studentship.
Include your signed "Unashamed pledge."
The deadline for submission is December 3, 2023. 
The top 15 winners will not only win prizes but also receive certificates and a place in the JAME 2024 Fellowship program—a true acknowledgement of talent and effort. Remember, your essay must be original and authentic. Plagiarism or the use of AI-generated content will not be tolerated and will lead to immediate disqualification.
I hope you find this article helpful.