Entry-level candidates are individuals with little or no previous relevant professional experience. Many companies are eager to hire enthusiastic and driven candidates to fill entry-level positions. If you are looking for a job that does not require previous experience, many options are available depending on your skills, background and interests.
In this article, we discuss what employers mean by saying "no experience required" in a job listing and examples of available entry-level jobs.
What does "no experience" mean?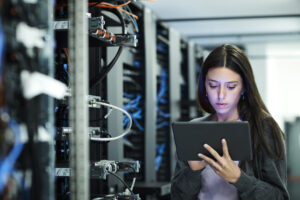 When employers state "no experience necessary" or "no prior experience required" in a job listing, it means that they do not expect you to have any prior knowledge, training or professional experience to do the job well. Entry-level job listings may also cite minimum qualifications as one to three years of non-professional-related experience. These additional qualifications might include:
Education or coursework

Internships

Volunteering

Belonging to an organization
Education such as a high school diploma, college degree or certification may improve your chances of attaining certain entry-level jobs. Depending on the employer, advanced education may also increase your starting pay.
Jobs that require little to no experience often use words like "assistant" or "junior" in the title. These roles typically provide on-the-job training that prepares you for daily tasks and responsibilities. The job descriptions may also indicate other requirements, such as:
Language proficiencies

Technical skills, such as computer programming

Soft skills, such as creativity and collaboration
Entry-level jobs often offer advancement opportunities with time and experience.
How to find jobs that require no experience
When looking for jobs that require little previous experience, search for listings that match your education and skill level. Find a field you are passionate about, and look for entry-level opportunities that can provide you with valuable training and experience. Draw from past activities and interests, and share your motivation and enthusiasm for the job during the interview process.
Best jobs to apply for with no experience
Here are eight entry-level jobs that require little-to-no work experience.
1. Administrative assistant
National average salary:  $15.30 per hour
Primary duties: Administrative assistants perform office duties, often directly under a manager or an executive. They might organize paperwork, take phone calls and emails, handle scheduling and assist with company projects. These roles often only require a high school diploma, associate degree or bachelor's degree.
This position might be a good fit if you are interested in working in a corporate environment but have little professional experience. With experience and training, administrative assistants can be promoted to office managers, administrators, executive assistants or human resource specialists.
2. Pharmacy technician
National average salary: $16.13 per hour
Primary duties: Technicians work in pharmacies filling and labeling prescriptions for customers or medical providers. These well-organized individuals might also help catalog inventory, file patient information and process health insurance. You can find work as a pharmacy technician if you have a high school or college degree or have taken pharmacy technology courses. New hires typically must pass the pharmacy technician certification exam and learn on-the-job skills such as operating equipment.
3. Firefighter
National average salary: $44,491 per year
Primary duties: Firefighting is a strenuous yet rewarding job that often only requires a high school diploma. Training in emergency services can make you a more appealing candidate, as this profession's duties include providing basic medical attention to injured individuals. Firefighters must also be able to use heavy equipment and handle emergencies such as wildfires and hazardous materials spills. Entry-level firefighting jobs that don't require experience provide on-the-job training for these tasks.
4. Claims adjuster
National average salary: $59,275 per year
Primary duties: Insurance companies hire claims adjusters to evaluate property damage and personal injury. They often conduct interviews, review records and assess the damage. Claims adjusters help a company determine whether to reject or accept a claim and assist in settlement. You can earn an entry-level adjuster position with a high school diploma and advance under a senior claims adjuster's supervision. Depending on the state, you might also need to take an insurance licensing course and pass the licensing exam.
5. Sales representative
National average salary: $62,477 per year
Primary duties: Sales representatives sell products or services to customers and businesses. Their duties might include giving sales presentations, negotiating contracts and prospecting potential leads. Valuable qualities include great customer service and communication, motivation and ambition.
You can find sales jobs in nearly any industry, from retail to pharmaceuticals. Many entry-level positions require no more than a bachelor's degree, while others request a minimum of a high school diploma. As you advance in a sales position, you might become eligible for additional commissions or bonuses for meeting sales goals.
6. Web developer
National average salary: $72,155 per year
Primary duties: Web developers design, build and maintain websites and apps. For these entry-level positions, you need basic computer programming and design skills as well as a high school diploma or an associate degree. Freelance work and a portfolio can help you qualify you for a position such as a junior developer. As you gain knowledge and experience, you may be eligible for a more senior developer position.
7. Information technology technician
National average salary: $73,350 per year
Primary duties: IT technicians investigate and resolve computer issues as well as install and manage systems and servers. Entry-level job duties might include taking calls at a help desk to diagnose and resolve basic problems. Technicians can advance to administrative and engineering positions with training and experience. Many companies hire IT staff with little to no experience if they have a high school diploma or college degree in a related field or have completed computer science or other technical certifications.
8. Real estate agent
National average salary: $87,475 per year
Primary duties: Real estate agents market and sell houses in addition to helping clients navigate the process of buyer negotiations and home loans. Most real estate agents set their schedules and work on commission. Valuable skills for success include negotiation, marketing, communication and ambition. To become an agent, you need a high school diploma and a passing score on your state's real estate exam. Starting, you must work under another broker to gain experience.
Frequently asked questions
What's a high salary for a job that doesn't require experience?

The U.S. Bureau of Labor Statistics (BLS) reports that the median weekly earnings in the U.S. are $1,070 per week. This figure equates to an annual salary of approximately $55,640 per year. If you can find a job that doesn't require experience and pays this salary or a higher yearly amount, you may consider it a high-paying job.

Note that figures from the U.S. Bureau of Labor Statistics (BLS) help supplement data from Indeed.
Can I make a six-figure salary with no experience?

It's possible to make six figures a year with no experience. You can find in-demand positions with employers who can benefit from your unique qualities and skills. For example, if you pursue a career as a real estate agent, you can spend time advertising your services and researching the local real estate market. This way, you can attract loyal clients and dedicate your time to helping them purchase and sell some of the most valuable properties available.
How can I tell if a job posting for a no-experience-necessary job is legitimate?

Even though online job boards have filtering technology, scam artists can still post illegitimate job posts to take advantage of candidates. When you see a job post for a position that requires no experience, you may detect a scam if you notice any of the following signs:

The employer is requesting money from you.

The salary seems extremely high.

The employer sends you emails from an unprofessional email address.

I hope you find this article helpful.