Applicants who have chosen the Jigawa State College of Education as their choice of institution are advised to see the procedures and requirements below.
The Jigawa State College of Education admission form is for prospective students who chose the institution in the 2023 Joint admission and matriculation exam as their first choice of institution and have scored up to the Jigawa State College of Education, cut-off mark, can now proceed to acquire the school's Post UTME form.
Requirements For JSCOE Post UTME Form
Candidates who made the Jigawa State College of Education their First or Second Choice for the 2023/2024 Unified Tertiary Matriculation Examination (UTME), and had a minimum score of 100 can now proceed to apply for Post UTME.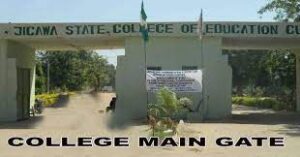 How to Apply for JSCOE Post UTME
Qualified candidates should use the online application method;
JSCOE Application
Log on to the Jigawa State College of Education website and click on "Admissions" to start the registration process.
Click on Post-UTME Application and log in with your JAMB registration number as username and surname in lowercase as password.
Generate and print the payment slip and proceed to the payment of 2,000 naira online or at any commercial bank.
After payment, return to the College's portal, upload a passport photograph, and complete the application form.
Print Post-UTME Examination Pass and make sure to take it along for the screening.
JSCOE Post UTME Form Registration Procedure
The Jigawa State College of Education Post UTME registration form for eligible candidates into the institution into all courses/Programmes for 2023/2024 has commenced online.
These eligible candidates, including candidates who possess five (5) credit passes at one sitting in relevant O-Level subjects, including English Language and Mathematics, can follow the online procedures stated above to kick-start their admission process.
JSCOE UTME Form Screening Fee
The Jigawa State College of Education Post UTME exercise screening fee is ₦2,000.
Jigawa State College of Education has not released its admission form for the 2023/2024 academic session.
However, we do urge you to keep tabs with us as this blog post may be updated as soon as there is any necessary information you should know.
READ ALSO: FEDPONEK ADMISSION FOR PART-TIME ND PROGRAM
The Rich Tapestry of Courses at JSCOEG
The curriculum at JSCOEG caters to a wide range of academic interests. From specialized courses in specific disciplines to double-major programs, the options are diverse and wide-ranging. Below is an outline of the courses and departments available at JSCOEG.
1. Adult and Non-Formal Education
2. Languages and Communication Studies
The department comprises the following courses:
Arabic/English
Arabic/Hausa
Arabic/Islamic Studies
Arabic/Social Studies
Arabic Medium
English/Geography
English/Hausa
English/History
English/Islamic Studies
English/Social Studies
Economics/English
Economics/History
Economics/Social Studies
3. Natural and Applied Sciences
For those interested in the world of science and its application, this department offers courses such as:
Biology/Integrated Science
Biology/Mathematics
Chemistry/Integrated Science
Chemistry/Mathematics
Computer Science Education/Integrated Science
Computer Science Education/Mathematics
Computer Science/Biology
Computer Science/Physics
Integrated Science/Mathematics Education
Integrated Science/Physics
Mathematics/Physics
4. Social Studies and Education
This department is home to courses like:
Geography/History
Geography/Mathematics
Geography/Social Studies
Hausa/Islamic Studies
Hausa/Social Studies
History/Social Studies
History/Islamic Studies
Islamic Studies/Geography
Islamic Studies/Social Studies
Special Education/Social Studies
5. Early Childhood Care and Business Education
In this department, students can enroll in the following:
Early Childhood Care Education
Business Education
6. Integrated and Double Major Programmes
For students looking for an expansive study experience, there are various integrated and double-major courses to choose from:
Integrated Science
Physical and Health Education (Double Major)
Fine and Applied Arts (Double Major)
Special Education (Double Major)
Social Studies (Double Major)
English (Double Major)
Home Economics (Double Major)
Integrated Science (Double Major)
Agricultural Science (Double Major)
7. Primary Education Studies
This course is designed for those who aspire to shape the minds of the youngest generation.
Potential applicants should carefully consider the variety of courses on offer to make an informed decision about their academic journey. Education is a passport to the future, and at JSCOEG, you have a wealth of possibilities to find the course that aligns with your career aspirations. The door to a brighter future is open – take the first step with Jigawa State College of Education, Gumel.
I hope you find this article helpful.