Kenule Beeson Saro-Wiwa Polytechnic, Bori, previously known as Rivers State Polytechnic, has officially announced the commencement of its post UTME screening exercise for the 2023/2024 academic session. This is an opportunity for candidates desiring to pursue a National Diploma (ND) in a reputable institution to make their dream a reality.
KENPOLY ND Full-Time Post-UTME Form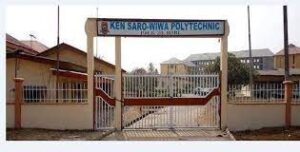 | | |
| --- | --- |
| Institution🏛 | Kenule Beeson Saro-Wiwa Polytechnic (KENPOLY), Bori |
| Session🗓 | 2023/2024 |
| Programs📚 | Applied Science, Engineering, Environmental Technology, Management Sciences |
| Eligibility📋 | Chose KENPOLY as 1st choice or willing to change institution; Achieved cut-off mark |
| Application Fee💰 | N3,700 (Form, Portal Access, Bank Charges) |
| How to Apply🔑 | Payment at Union Bank & FCMB; Complete form online with provided details |
| Application Portal🌐 | ecampus.kenpoly.edu.ng |
| Deadline⌛ | November 30th, 2023 |
Programs on Offer at KENPOLY
For this academic session, prospective students can choose from a range of full-time National Diploma (ND) programmes:
Applied Science
Engineering
Environmental Technology
Management Sciences
READ ALSO: GVU POST-UTME SCREENING FORM
Eligibility for KENPOLY Post-UTME Admission
Who can apply?
First Choice Candidates: If you chose Kenule Beeson Saro-Wiwa Polytechnic (KENPOLY) Bori as your primary choice and attained the required cut-off mark for the 2023/2024 session, you are eligible.
Change of Institution Candidates: Even if KENPOLY wasn't your initial choice, you can still apply, provided you're prepared to change your institution of choice to KENPOLY.
Application Procedure: All candidates must complete the online screening form by adhering to the outlined process below.
Guide to Applying for the KENPOLY Post UTME Form
STEP 1: Payment Details
Direct Bank Payment: Approach any branch of Union Bank or FCMB across the nation and make a payment of N3,700. This fee encompasses N2,500 for the form, a N1,000 portal access charge, and a N300 bank fee. During payment, be ready to provide:

UTME registration number
Name
Email
Phone number
Other pertinent details.

Online Payment: Alternatively, you can start your application by visiting the polytechnic's portal and selecting the suitable payment option.
STEP 2: Payment Confirmation
Upon payment, the bank will provide a receipt containing a confirmation number.
STEP 3: Online Application
Navigate to the Rivers State Polytechnic admissions portal: ecampus.kenpoly.edu.ng. Here, you'll:
Input the confirmation number from your bank receipt and submit.
If your payment is authenticated, you'll be prompted to establish a password for future logins.
Use your UTME number and newly-created password to log in, and then proceed to complete the Applicant's Particulars Form. Ensure your provided email address and phone number are active.
STEP 4: Confirmation SMS
Once you've successfully completed the form, you'll receive an SMS notification as confirmation.
STEP 5: Printing Your Form
It's recommended to print out a copy of the completed online application for your records. Double-check the printed form for accuracy. If corrections are needed, simply log back in to amend any errors. Ensure to log out once done.
STEP 6: Await Further Communication
Stay alert! If your application is successful, the institution will contact you in the near future.
Important Date to Remember
Application Deadline: Ensure to complete your application before November 30th, 2023.
Prospective students are advised to follow the outlined steps meticulously and ensure all information provided is accurate. The institution holds the right to deny admission based on incorrect or misleading details. Best wishes on your academic journey at KENPOLY!
I hope you find this article helpful.