Kebbi State University of Science and Technology (KSUSTA) in Aliero has just released the cut-off mark for the 2023/2024 academic session. The cut-off mark, which plays a crucial role in the admission exercise, has been anticipated by many aspiring students. Whether you've selected KSUSTA as your preferred choice or are considering it, this guide will give you all the essential information.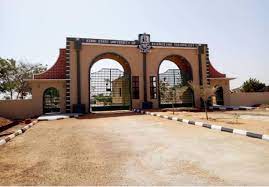 | | |
| --- | --- |
| 🏫 University Name | Kebbi State University of Science and Technology Aliero (KSUSTA) |
| 📍 Location | Aliero, Kebbi State, Nigeria |
| 🎓 Programmes Offered | Agriculture, sciences, engineering, medicine, technology education, etc. |
| 🗓️ Founded | 2006 |
| 🎯 Cut-Off Mark | Minimum score of 140 |
| 📜 Eligibility | First choice with a score of at least 140 for post-UTME screening |
| 🎨 Degree Courses | Various courses including agriculture, engineering, biochemistry, nursing, computer science |
| 📊 Rank | 79th university in Nigeria |
About KSUSTA
The Kebbi State University of Science and Technology is a state-owned university located in Aliero, Kebbi State, Nigeria. Founded in 2006, it was the 79th university to be established in the country. Renowned for its programs in agriculture and sciences, among others, KSUSTA has become a beacon for students passionate about these fields.
SEE ALSO: CITI POLYTECHNIC POST-UTME FORM
To be eligible for KSUSTA's post-UTME screening exercise, candidates must have chosen the university as their first choice (i.e. most preferred institution) and scored a minimum of 140.
Degree Courses Available for Candidates Scoring At Least 140
If you've scored 140 or more, you're eligible to apply for the following degree courses at KSUSTA:
Agricultural Science (Double Major)
Agricultural Science and Education
Agriculture
Applied Chemistry
Biochemistry
Biological Science(s)
Biology
Botany
Fisheries
Forestry
Microbiology
Zoology
Architecture
Automobile Technology Education
Civil Engineering
Computer Science
Electrical/Electronics Education
Electrical/Electronics Engineering
Mechanical Engineering
Metalwork / Woodwork Technology Education
Metalwork Technology Education
Urban and Regional Planning
Woodwork Technology Education
Medicine and Surgery
Nursing/Nursing Science
Building
Chemistry
Education and Biology
Education and Chemistry
Education and Computer Science
Education and Mathematics
Education and Physics
Geography
Information and Communication Technology
Library and Information Science
Mathematics
Physics
Quantity Surveying
Statistics
In summary, the cut-off mark is a significant part of the admission process, and KSUSTA has offered a wide variety of courses for those who have met or exceeded this benchmark. If you're interested in the fields of agriculture, sciences, engineering, and more, KSUSTA could be the perfect place for your academic pursuits.
With these details at hand, now is the time to prepare for the next steps in your admission process. If KSUSTA aligns with your educational goals and aspirations, make sure you meet all the necessary requirements and follow the application guidelines. Your future at Kebbi State University of Science and Technology Aliero awaits.
I hope you find this article helpful.