The Umaru Musa Yar'dua University (UMYU) stands as one of Nigeria's leading institutions, playing a pivotal role in shaping the country's educational landscape. Its commitment to academic excellence remains unwavering, and with every academic session comes the anticipation of welcoming a fresh cohort of diligent students. The university's recent announcement regarding the list of eligible candidates for the 2nd Post UTME/DE examination for the 2023/2024 academic session has indeed caused a buzz among aspirants.
List Of Candidates Eligible For UMYU Post-UTME/DE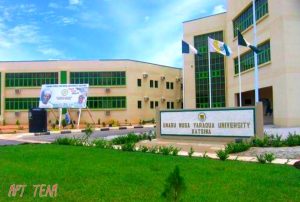 | | |
| --- | --- |
| Announcement 📢 | UMYU's eligible candidates for 2nd Post UTME/DE 2023/2024 |
| Target Audience 🎯 | Candidates who chose UMYU during 2023 JAMB UTME |
| Cut-off Marks 🔍 | Candidates must meet UMYU's specified cut-off marks |
| Purpose 🎓 | Verify eligibility for Post UTME examination |
| List Access 🖥️ | University's official website |
| UTME Eligibility 📜 | List available on UMYU website |
| DE Eligibility 📜 | List available on UMYU website |
| Note ⚠️ | List of candidates with incorrect subject combinations also provided |
UMYU's Significant Update on Eligibility
UMYU's recent proclamation is of paramount importance for those aspiring students who opted for UMYU during their 2023 JAMB UTME registration. This declaration not only paves the way for their next academic step but also underscores UMYU's commitment to transparency. It is now imperative for these candidates to ensure that they meet the university's cut-off marks as it forms the crux of their eligibility for the Post UTME examination, which is instrumental in obtaining a seat in this esteemed institution.
Accessing the List of Eligible Candidates
UMYU has efficiently streamlined the process for students by providing the eligibility lists on its official website. This digital approach ensures easy access, reducing unnecessary stress and confusion for candidates. They can now seamlessly ascertain their status by visiting the links below:
Final Thoughts
This announcement, rich in its significance, is a beacon of hope and excitement for those on the cusp of their tertiary education journey. It is essential for candidates to not only verify their eligibility but also familiarize themselves with the subsequent processes that will follow. Taking proactive steps, such as regularly checking the university's official channels for further announcements, will prove beneficial.
In closing, while the quest for securing admission into UMYU is filled with anticipation, it's equally essential to approach the process with due diligence and a mindset geared towards success. UMYU awaits its next generation of scholars, leaders, and visionaries, and this could very well include you.