The Fully Funded Lithuanian State Scholarships in Europe is open to study for Master's degree programs. This scholarship is offered by Lithuanian Higher Education. For Lithuanian Scholarships Europe, any international applicants from the selected nations are eligible to apply. The Government of Lithuanian will look after all the Fee costs. There is No Application fees are required to apply for this scholarship. This year, 100 full-time master's degree scholarships will be given to students.
Fully Funded Lithuanian State Scholarships In Europe 2024/2025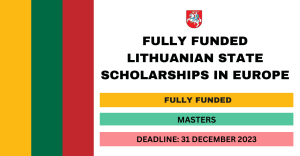 DEADLINE
31 December 2023
PROVIDER
Lithuanian Higher Education
STUDY LEVEL
Masters, Postgraduate
SUBJECTS
Subjects offered by the university
FUNDING TYPE
Government Scholarships, Fully Funded Scholarships
Scholarship Eligibility
The eligibility criteria for the Fully Funded Lithuanian State Scholarships in Europe are stated below:
1. All of the information on your form of application will be provided in English or Lithuanian.
2. To be eligible for this scholarship, Belarus citizens must hold a valid residence permit in Lithuania.
3. The applicant's proficiency in Lithuanian, English, or another language used in the study program is required.
4. Applicants must have an Undergraduate degree that is completed by the end of the academic year 2022-2023 or be a 4th-year student of integrated studies.
Scholarship Benefits
The benefits of the Fully Funded Lithuanian State Scholarships in Europe are:
1. The Lithuanian institution of higher learning will not charge any kind of tuition fees to students. There will be no tuition for all Master's degree programs.
2. The value of the scholarship is 490 euros per month.
3. The candidates will become a part of Lithuanian institutions of higher education.
Citizens of the following countries are eligible for grants and monthly scholarships covering the study costs:
1. 60 grants will be given to Ukraine.
2. 10 grants will be awarded to Belarus.
3. 20 grants will be given altogether to Armenia, Georgia, foreign citizens of Lithuanian origin, and Moldova.
4. Azerbaijan will be provided with 5 grants
5. A monthly scholarship is provided to citizens of Japan, China, Israel, and South Korea, and will be given 5 grants altogether.
Others
Required documents
1. Personal data and contact information
2. Letter of motivation
3. Recommendation letter (one)
4. For full-time Master's degree programs, applicants must attach a copy of the letter of acceptance or pre-acceptance that is issued by a Lithuanian higher education institution.
5. Must attach academic records.
6. An undergraduate degree is required.
7. Proof of English language proficiency (at master's level).
8. The citizens of Belarus must attach a valid residence permit in Lithuania.
9. The priority will be given to those candidates who are already studying or planning to study; Mathematics, Informatics, Physical sciences, Life sciences, Engineering, Technological Sciences, Health sciences, Veterinary, sciences, Agriculture, Education sciences, Art, and Sport.
RECOMMENDED: FRIEDRICH EBERT SCHOLARSHIP FOR FOREIGN STUDENTS
Available Majors and Fields
1. Engineering
2. Life sciences
3. Mathematics
4. Informatics
5. Health Sciences
6. Veterinary sciences
7. Technological Sciences
8. Agriculture
9. Education sciences
10. Art
11. Sport
12. Physical sciences
I hope you find this article helpful.