Electricians receive many professional and personal benefits as they develop their skills and experience. If you're interested in pursuing a career change, consider becoming an electrician. Understanding the benefits of the role can help you select a career path that matches your goals. In this article, we list nine reasons for a career change to an electrician role and offer steps to make this change so that you can pursue an engaging role.
9 reasons to pursue a career change to an electrician role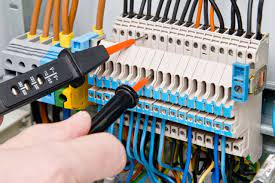 Here are nine reasons to consider a career change to an electrician role:
1. Job Outlook
According to the U.S. Bureau of Labor and Statistics, employment opportunities for electricians may grow 9% from 2020 to 2030. One reason for this growth may be that businesses and individuals often require electricians' services to fix various electrical issues in their homes or workplaces. If your current position doesn't indicate employment growth in the future, becoming an electrician may allow you to secure a more stable role.
2. Work hour flexibility
Once they've gained experience and training, electricians often have the flexibility to determine their own schedule. For example, if an electrician prefers to work evenings, they can schedule projects or client meetings outside of traditional working hours. This can ensure that an electrician works at a time that's more convenient and productive for them. If you're interested in a job opportunity outside of traditional working hours, becoming an electrician may be a good fit.
3. Hands-on work
Electricians often use tools to fix electrical problems or issues. This can involve going on-site to complete projects that make a direct impact on individuals or businesses. If you enjoy working with electrical technology and solving problems with your hands, a role as an electrician may provide you with an exciting new challenge.
4. Salary
The national average salary for an electrician is $56,278 per year. This amount can increase if you acquire additional training, certifications, or experience. Since electricians often manage their selection of client schedules and projects, they can also take on additional work if they'd like to raise their salary. This field can present you with an opportunity to increase your earnings as you expand your practice.
5. Independent work
Electricians often work independently to complete projects. This can allow them to make decisions that work best for them. For example, they may select the tools that they're most comfortable with, methods that they have found successful, or projects they most enjoy. While there may be some collaboration in this role, becoming an electrician can allow you to utilize and develop your individual decision-making skills.
6. Work Variety
Electricians may work on a variety of projects. Some types of projects they can complete include fixing broken electrical machinery, maintaining electrical systems or installing new equipment. Since many buildings require electrical work, electricians may work for a variety of clients and organizations. They can also specialize in a variety of fields. This may provide them with an exciting and varied career that involves frequent changes to their work environment and daily responsibilities. If you're looking to enter a field that offers different projects than your current career, you may find an electrician role engaging.
7. Advancement opportunities
As you develop your skills and experience as an electrician, you may be able to take on new opportunities and responsibilities to advance your career. For example, you may take additional certification classes, learn new methods and technology, or master working on more complex projects. You may also take on more challenging or demanding clients. This can allow you to create a career that matches your ambitions.
8. Workplace
Becoming an electrician may allow you to work in the field rather than in an office. Electricians may travel to project sites, meaning that they often experience changing locations. If your current career features working at the same location consistently and you're seeking more variety in your work environment, you may consider becoming an electrician to allow you to experience different work conditions and apply your skills to varying settings.
9. Manageable transition
If you're looking for a new role in a different field, becoming an electrician may be more manageable than other transitions. This is because becoming an electrician doesn't require a high-level degree, meaning that you may not have to enroll in classes at a two-year or four-year institution. While a role as an electrician does require experience and training, in some cases you can earn experience through an entry-level position or apprenticeship. This means that you may be able to begin a new career immediately.
How to change careers and become an electrician
Here are three steps you can take to change your career and become an electrician:
1. Earn your high school diploma
If you haven't already earned your high school diploma, it may be necessary to obtain it before beginning a career as an electrician. This is because electricians may need a basic foundation in fields like math and science. You can often earn a high school diploma or a GED by attending night school or other related programs. Advancing your education can allow you to develop skills and expand your knowledge base as you prepare for a new role.
2. Enroll in a trade school or pursue an apprenticeship
To begin your job-specific training, consider enrolling in a trade school or pursuing an apprenticeship. A trade school can offer a specialized program that teaches skills you may need to succeed as an electrician, like electrical mechanics or proper maintenance techniques. While this may prepare you for a role as an electrician, it may require time and financial resources.
An apprenticeship program allows you to work under a registered electrician to learn skills and develop professional practices. Some people may pursue both opportunities or may choose one over the other. Consider choosing whichever strategy works best for your goals.
3. Get a certification
Electricians typically become certified within their state before they begin to practice professionally. While requirements may differ by state, certification exams often require extensive knowledge of electrical practices and technology and sufficient experience in the field. Additionally, electricians may want to obtain voluntary certifications and licenses, like those that show their competence with new technologies or practices. This can help them broaden their skills and knowledge to advance their career.
I hope you find this article helpful.