The Fully Funded Mastercard Cambridge University African Scholarship in the UK is accepting applications from Africans. It is designed to provide talented students from economically marginalized and hard-to-reach communities in Africa with fully-funded opportunities to complete their Master's training, grow in transformative leadership, and contribute to climate resilience and sustainability in Africa.
The candidates can apply to most courses available at the University* – see available programs – since addressing the climate crisis requires a range of expertise across both scientific/STEM disciplines and the arts, humanities, and social sciences. The Program trains these scholars in various academic disciplines – from the creative arts and writing through the social sciences to more scientific and technical disciplines: because a multidisciplinary approach to climate action and response is critical.
Mastercard Cambridge University African Scholarship In UK 2024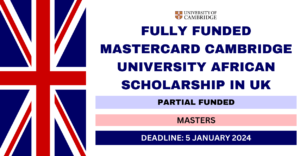 DEADLINE
5 January 2024
STUDY IN
United Kingdom
PROVIDER
Mastercard Foundation
STUDY LEVEL
Masters, Postgraduate
SUBJECTS
Subjects offered by the university
FUNDING TYPE
Fully Funded Scholarships
Scholarship Eligibility
The eligibility criteria for the Fully Funded Mastercard Cambridge University African Scholarship in the UK are stated below:
1. Must be a citizen of an African country* and demonstrate that they are from an economically marginalized or economically disadvantaged background.
2. Must be ordinarily resident * in an African country unless you can show temporary absence for study/work to return or unless you have been displaced.
3. Must be applying for a one-year Master's course at the University of Cambridge.
4. Prospective Scholars can apply across a wide range of disciplines.
* Evidence will be required at a later stage of the Scholarship selection process.
** See for further information about support available to refugees at Cambridge University.
*** Exceptions are the Master of Accountancy, Business Administration, Master of Corporate Law, Master of Finance, MASt, MSts.
Scholarship Benefits
The benefits of the Fully Funded Mastercard Cambridge University African Scholarship in the UK are:
1. This full-cost award is available to Master's students, covering tuition fees, maintenance, and expenses (e.g., travel, visa costs, and the immigration health surcharge). An allowance for dependant children joining a student in Cambridge is available.
2. In addition to full funding (fees and maintenance), the Mastercard Foundation Scholars Program at Cambridge will provide scholars with support for travel to and from the UK (including visas, if needed). In addition, Scholars will benefit from a cohort-wide induction program, likely to require early arrival in Cambridge before the start of the course.
Others
How To Apply?
(a) Apply for admission to the University via the course directory by the funding deadline for your chosen course of study and indicate that you wish to apply for funding (the deadline will either be 5 December 2023 or 5 Jan 2024 – check the course directory for the relevant funding deadline.
The University of Cambridge has created a very helpful video about applying for postgraduate admission and funding.
(b) As part of the application process in the University's graduate application portal, students are asked to select funding bodies they are interested in applying to. A range of options are presented to the applicant. Once you select the program, you must submit a mandatory personal statement.  This is the only part of the application process where applicants are specifically asked about their fit for the Mastercard Foundation Scholarship Program.  You should endeavor to demonstrate how you specifically meet the Program's criteria. You will be expected to write about your desire and commitment towards climate-resilient and sustainable futures for Africa and the world and how your chosen course of study at Cambridge contributes towards that goal.
(c)  The University comprises 31 colleges, each offering varied opportunities. It is important that you take time to consider the college you wish to live in. You may want a college near to your department or any other specific requirement.  Please read up about the college system to enable you to make an informed choice:   https://www.postgraduate.study.cam.ac.uk/colleges/choosing-a-college.
(d) Fee waiver
Master's applications require a  £50 application fee. However, the fee will be automatically waived for applicants of the Mastercard Foundation Scholars program. Please note you must submit the scholarship statement to benefit from the automatic waiver. Students who do not get an automatic waiver and are certain they meet all conditions of the Scholars program are invited to contact the team at admin@mastercardfoundation.fund.cam.ac.uk.
Kindly note that data relating to your application/place on the Program will be retained and anonymized to evaluate the Program's outcomes and effectiveness.
Deadlines:
The deadline for submitting applications for funding is the 5th of December 2023 for courses with a 5th of December deadline and the 5th of January 2024 for courses with a 5th of January deadline. When making an application, pay close attention to the funding deadline.
I hope you find this article helpful.