The authoritative body of the Nigeria Maritime University (NMU) has officially declared the departmental cut-off marks requisite for the 2023/2024 academic session's admission procedure.
NMU Cut-Off Mark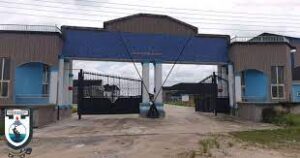 | | |
| --- | --- |
| 🏫 NMU Establishment | Proposed by Federal Ministry of Transport through NIMASA, located in Okerenkoko, Warri South West LGA, Delta State. |
| 🎯 Cut-Off Marks | Released for 2023/2024 academic session. |
| 🚢 Marine Engineering | 180 |
| 🏗 Civil Engineering | 160 |
| 🔌 Electrical Engineering | 160 |
| 🛠 Mechanical Engineering | 160 |
| ⛽ Petroleum & Gas Eng. | 160 |
| 🌍 Marine Geology | 150 |
| 🐟 Fisheries & Aquaculture | 150 |
| 🌿 Env. Mgmt & Pollution | 150 |
The Nigeria Maritime University, nestled in Okerenkoko, within the Warri South West Local Government Area of Delta State, Nigeria, is a highly regarded institution. Its establishment was advocated by the Federal Ministry of Transport, operating through the auspices of the Nigerian Maritime Administration and Safety Agency (NIMASA), as a vital component of its executive mandate. This institutional proposition was executed to drive advancement in maritime studies, engineering disciplines, and environmental sciences, contributing significantly to the national and global maritime sectors.
READ ALSO: ICONIC OPEN UNIVERSITY POST-UTME SCREENING
NMU Admission: Established Cut-Off Marks
For those endeavouring to gain admission to the renowned institution for the upcoming 2023/2024 academic session, the following are the sanctioned cut-off marks across various academic departments:
Marine Engineering: 180
Civil Engineering: 160
Electrical Engineering: 160
Mechanical Engineering: 160
Petroleum & Gas Engineering: 160
Marine Geology: 150
Fisheries and Aquaculture: 150
Environmental Management & Pollution: 150
Meteorology & Climate Change: 150
Nautical Science: 160
Transport and Logistics: 150
Ports Management: 150
Marine Economics & Finance: 150.
Further Insight into NMU's Academic Offerings
At NMU, prospective students exploring studies in Marine Engineering will need to attain a minimum mark of 180. This discipline delves deeply into the design, construction, and maintenance of maritime structures and vessels, requiring a robust understanding of engineering principles.
Courses like Civil, Electrical, Mechanical, and Petroleum & Gas Engineering, along with Nautical Science, have established a cut-off mark at 160. These fields focus on the application of scientific and mathematical principles to design, develop, and sustain structures, electrical systems, machinery, and oil and gas exploration techniques.
For candidates eyeing specialties in Marine Geology, Fisheries and Aquaculture, Environmental Management & Pollution, Meteorology & Climate Change, Transport and Logistics, Ports Management, and Marine Economics & Finance, the threshold is set at 150. These multifarious disciplines explore marine ecosystems, aquatic life management, environmental conservation, climate studies, logistic operations, port administration, and economic and financial analysis within the maritime sector.
The Significance of Adherence to Cut-off Marks
Meeting the stipulated cut-off marks is a non-negotiable criterion for securing admission. It serves as an academic benchmark, ensuring that admitted students possess the requisite intellectual acumen and foundational knowledge to navigate their chosen fields successfully.
In summary, the delineated cut-off marks for the varied departments at Nigeria Maritime University signify the university's commitment to uphold academic excellence and integrity within its diverse academic offerings. Aspiring students are encouraged to familiarise themselves with these benchmarks to enhance their prospects of gaining admission into this esteemed institution for the 2023/2024 academic session. The academic journey that NMU offers promises to be both enriching and transformative, equipping students with the knowledge and skills necessary to contribute meaningfully to the maritime industry and associated fields.
I hope you find this article helpful.