The Fully Funded OneBeat Music Residency Program in the USA is accepting applications from 50 global artists from up to 54 eligible countries and territories for two month-long U.S.-based music exchanges scheduled for the spring and fall of 2024.
OneBeat is a music exchange and incubator for music-based social entrepreneurship, where innovative musicians from around the world launch collaborative projects designed to make a positive impact on local and global communities.
An initiative of the U.S. State Department's Bureau of Educational and Cultural Affairs in collaboration with the groundbreaking New York-based music organization Bang on a Can's Found Sound Nation, OneBeat employs collaborative original music as a potent new form of cultural diplomacy.
OneBeat Music Residency Program In USA 2024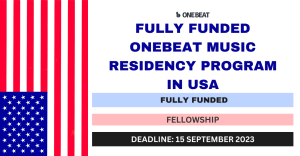 -Scholarship Eligibility
The eligibility criteria for the Fully Funded OneBeat Music Residency Program in the USA are stated below:
1. Applicants must be 19 or older by the start of the program (September 1, 2024) and 35 or younger at the end of the program (October 31, 2024).
2. Musical Excellence – A high level of performance, composition, improvisational, production, and/or technological skill. Ideally, OneBeat musicians will be innovating stylistically, lyrically, or technologically within their musical worlds.
3. Collaboration – Applicants' willingness to reach across cultural and musical divides in creating original music or re-interpreting traditional music, while respecting the essence of each tradition. Applicants should be prepared to try new things musically.
4. Social Engagement – Musicians who have used music to serve their communities or greater societies. This might consist of guiding young people in music education, addressing social or political issues through musical content, reviving dying musical traditions, and more.
RECOMMENDED: CRAWFORD UNIVERSITY POST-UTME-DE SCREENING
5. Age – Applicants must be between 19-35 years old.
6. English Proficiency – Applicants should be able to converse in and understand basic English, as it will be the common language of the OneBeat program.
7. Country or Territory of Origin – OneBeat Fellows must currently live full-time in one of the 45 eligible countries and territories. We also seek applicants who have not traveled extensively to the U.S. or have rarely performed in the U.S.
8. Internet Proficiency – Whenever possible, OneBeat Fellows should actively use email and be able to connect to the internet to participate in website-based activities.
Scholarship Benefits
The Fully Funded OneBeat Music Residency Program in the USA will cover OneBeat Fellows, including travel and accommodations. Fellows will also receive a per diem and a modest honorarium.
I hope you find this article helpful.