In a significant announcement regarding the 2023/2024 academic year, the management of Osun State Polytechnic (OSPOLY), located in Iree, has publicized its admissions cut-off marks for prospective students.
OSPOLY, Iree Admissions Cut-Off Mark 2023/2024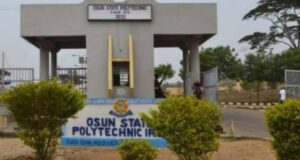 | | |
| --- | --- |
| 🏫 Institution | Osun State Polytechnic (OSPOLY), Iree |
| 📚 Session | 2023/2024 Academic Session Admission |
| ✅ Cut-off Criteria | Candidates must score at or above OSPOLY's cut-off in UTME for consideration. |
| ❌ Below Cut-off | Candidates scoring below the cut-off aren't eligible for post-UTME screening. |
| 📖 History | OSPOLY was a satellite of The Polytechnic, Ibadan. Became independent on 12 October 1992, established by Gov. Isiaka Adeleke. |
| 🔍 Eligibility | Candidates choosing OSPOLY as 1st or 2nd choice in UTME or planning to change to OSPOLY & scored 100+ (NCE) or 120+ (ND) are eligible. |
| 📚 Faculties | Engineering, Science, ICT, Environmental Studies, Financial Studies, Management Studies. |
| 📌 General Information | OSPOLY is located in Iree, Osun State, and was formerly associated with The Polytechnic, Ibadan. |
About Osun State Polytechnic, Iree (OSPOLY)
Osun State Polytechnic, Iree, a renowned tertiary learning institution, holds a distinguished place in Osun State's academic landscape. Notably, before gaining autonomy on 12th October 1992, it functioned as a satellite campus of The Polytechnic, Ibadan. Its elevation to an independent institution was endorsed by the then Governor of Osun State, Alhaji Isiaka Adeleke, who simultaneously approved the establishment of The Osun State College of Technology in Esa-Oke.
Setting the Admission Benchmark
For those eagerly awaiting the criteria for admission to OSPOLY Iree for the upcoming academic session, the institution has set clear guidelines:
OSPOLY Iree's Cut-off Mark:
For those vying for the Nigeria Certificate in Education, a minimum score of 100 in the UTME is mandated.
Prospective students interested in National Diploma Courses need to secure at least 120 in the UTME.
SEE ALSO: OSPOLY IREE POST-UTME FORM 2023/2024
Who Should Consider Applying?
If you've either:
Selected Osun State Polytechnic, Iree as your first or second choice during the 2023/2024 UTME process, or
Are contemplating changing your preference to OSPOLY Iree,
…and your UTME scores align with the aforementioned marks, you're in a promising position to be considered for admission through a screening process.
Available Faculties for National Diploma Courses:
For those meeting the 120 UTME score criterion, OSPOLY Iree offers a variety of faculties to choose from:
Engineering
Science
Information and Communication Technology
Environmental Studies
Financial Studies
Management Studies
In conclusion, it's imperative for prospective students to be cognizant of these benchmarks, ensuring that they meet the institution's requirements. OSPOLY Iree continues its commitment to offering quality education, and its standards reflect its dedication to academic excellence.
I hope you find this article helpful.