Owu College of Education (OWUCOED) in Ogun State, Nigeria, is pleased to announce the invitation of applications from suitably qualified candidates for admission into Full-Time and Part-Time NCE (National Certificate in Education) and Pre-NCE programs for the 2023/2024 academic session. This is a golden opportunity to shape your future with exceptional guidance and educational support.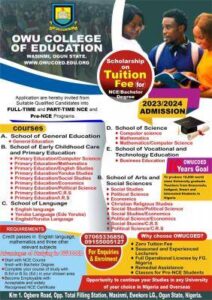 | | |
| --- | --- |
| 🎓 College Name | Owu College of Education (OWUCOED) |
| 📅 Academic Session | 2023/2024 |
| 🏆 Why Choose? | Zero Tuition Fee, Experienced Lecturers, Full License by FG, Remedial Assistance |
| 💼 Advantages | NCE to Bachelor Degree, B.Ed/B.Sc (Ed.), Recognised NCE Certificate |
| 🏫 Courses Offered | General Education, Early Childhood Care, Language, Science, Business Education |
| 📌 Location | K/m 1. Ogbere Road, Opp. Total Filling Station, Wasinmi, Ewekoro LG., Ogun State, Nigeria |
| ☎️ Contact | 07065336856, 09155005127 |
| 📝 How to Apply | Visit the college to obtain an application form |
Why Choose OWUCOED? A Focus on Excellence
OWUCOED has carved a niche for itself by offering exemplary education with a multitude of benefits:
Zero Tuition Fee: Studying at OWUCOED is affordable and accessible, as no tuition fee is charged.
Seasoned and Experienced Lecturers: Learn from the best minds who bring their vast experience and expertise into the classrooms.
Full Operational Licence by FG, Nigeria: Recognised and accredited by the Federal Government of Nigeria, ensuring quality education.
Remedial Assistance: Tailored support to help students excel.
Classes for Pre-NCE Students: Specialised preparatory classes for those aiming for the NCE.
Advantages of Studying at OWUCOED
Embarking on an educational journey at OWUCOED is not just a decision; it's a wise investment. Here's what you can expect:
Start with NCE Course and Finish with a Bachelor's Degree: Seamlessly transition from an NCE to a Bachelor's degree (B.Ed or B.Sc Ed.) in your chosen area.
Become Employable with a Recognised NCE Certificate: Make your mark with a widely accepted and respected qualification.
READ ALSO: UBTH COLLEGE OF NURSING POST-UTME FORM
Diverse Courses to Choose From
OWUCOED offers a wide array of courses across various schools:
A. School of General Education
B. School of Early Childhood Care and Primary Education
Primary Education/Computer Science
Primary Education/Mathematics
Primary Education/English Studies
Primary Education/Yoruba Studies
Primary Education/Social Studies
Primary Education/Economics
Primary Education/Political Science
Primary Education/C.R.S
Primary Education/I.R.S
C. School of Language
English language
Yoruba Language (Ede Yoruba)
English/Yoruba Language
D. School of Science
Computer Science
Mathematics
Mathematics/Computer Science
E. School of Vocational and Technology Education
F. School of Arts and Social Sciences
Social Studies
Political Science
Economics
Christian Religious Studies
Social Studies/Political Science
Social Studies/Economics
Political Science/Economics
Social Studies/C.R.S
Political Science/C.R.S
How to Apply: It's Simple and Straightforward
Ready to embrace a vibrant future at OWUCOED? To apply, simply visit the college at K/m 1, Ogbere Road, Opp. Total Filling Station, Wasinmi, Ewekoro LG., Ogun State, Nigeria, to obtain the application form.
For any inquiries, you may call:
OWUCOED's commitment to excellence and innovation has shaped countless successful careers. With the admissions now open, this is your chance to be part of an institution that cares for your growth and potential. Explore the diverse courses and be part of the legacy.
I hope you find this article helpful.