The Fully Funded Politecnico Di Milano Scholarships in Italy is open to All International Students worldwide. The Italian government offers the scholarship. The scholarship is for Undergraduate, Masters, and PhD students. It is for the intake of September 2024.
The university was established in 1863 and has since become one of Europe's largest technical universities. It has a rich history of producing notable alumni who have significantly contributed to various fields. The university offers various undergraduate and postgraduate engineering, architecture, and design programs. These include disciplines such as civil engineering, electrical engineering, mechanical engineering, industrial design, architecture, urban planning, and more.
Politecnico di Milano offers a vibrant student life with various clubs, sports facilities, cultural events, and student organizations. The university provides support services to help students integrate into campus life and offers resources for career development and job placement. The Politecnico di Milano, or the Polytechnic University of Milan, is a prestigious technical university located in Milan, Italy. It is one of Italy's leading institutions for engineering, architecture, and design and is renowned worldwide for its academic excellence and research contributions.
Fully Funded Politecnico Di Milano Scholarships In Italy 2024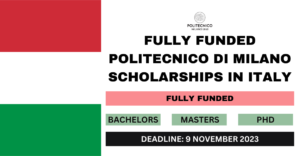 DEADLINE
9 November 2023
STUDY IN
Italy
PROVIDER
Politecnico Di Milano
STUDY LEVEL
Bachelor, Masters, Undergraduate, Postgraduate
SUBJECTS
Subjects offered by the university
FUNDING TYPE
Government Scholarships, Fully Funded Scholarships
Scholarship Eligibility
The eligibility criteria for the Fully Funded Politecnico Di Milano Scholarships in Italy are stated below:
1. International students can apply for scholarships at the Politecnico di Milano in Italy.
2. The candidates must have to apply before the deadline
3. The candidate must have to make the application fee payment.
4. Complete the online application and submit it.
5. Your language certificate must be submitted if you wish to be considered for a merit-based scholarship.
YOU MAY ALSO LIKE: UNILAG MASTERS IN URBAN MANAGEMENT PROGRAM
Scholarship Benefits
The benefits of the Fully Funded Politecnico Di Milano Scholarships in Italy are stated below:
1. 6000 Euros with no availability of food and 3,000 Euros with the availability of food.
2. One free meal every day and complete tuition payment are included.
3. Accommodation in Hostels
4. Living and medical expenses
Others
List of Available Study Fields:
1. Aerospace Science and Technology
2. Architecture and Urban Studies
3. Physics
4. Mathematics
5. Mechanical Engineering
6. Design
7. Civil and Environmental Engineering
8. Chemical Engineering etc
Documents Required:
1. Academic documents
2. Passport
3. Motivation Letter
I hope you find this article helpful.