Getting a degree in math and natural sciences can lead to a wide variety of job opportunities. No matter what your interests or skills are, you might be able to find a suitable job using your degree in math and natural science. Learning what jobs are available and their common duties can help you prepare for your job search and find the right career. In this article, we list eight jobs you can qualify for with a math and natural science degree, along with their salary information and primary responsibilities.
8 math and natural science degree jobs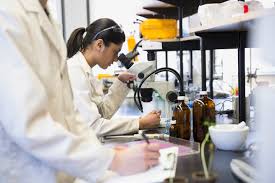 While earning a math and natural science degree, you learn about how the natural world operates, and common courses include biology, physics, chemistry, geometry and algebra. This can be a good degree to consider if you're interested in researching new topics or if you like teaching others. Here are eight jobs to consider pursuing with your math and natural science degree. For the most up-to-date Indeed salaries, please click on the links below:
1. Forensic science technician
National average salary: $50,688 per year
Primary duties: Forensic science technicians help detectives determine what happened at a crime scene. They do this by collecting evidence from the crime scene and analyzing it at a laboratory. For example, they may collect DNA samples from a crime scene and compare those to DNA samples of potential suspects.
After collecting and analyzing data, forensic scientists present this data to law enforcement to help them make arrests or eliminate suspects from consideration. In addition, forensic scientists sometimes testify in court, discussing the results of their analysis or providing testimony. Forensic scientists spend most of their time in the laboratory but also travel to crime scenes as necessary.
2. Educator
National average salary: $55,656 per year
Primary duties: The main responsibility of educators is to teach their students about a particular subject or subject. They research and create lesson plans for their students, which they then present either in a classroom or online setting. Educators with a math and natural science degree teach subjects such as algebra, biology, chemistry, physics, geometry and calculus.
Educators work to ensure each of their students learns the material the school's curriculum requires. They do this through various methods, such as lectures, class discussions and demonstrations. Educators also use tests to analyze each student's progress with the course material. Educators also communicate with students to provide them with additional instruction when needed.
3. Engineer
National average salary: $61,052 per year
Primary duties: An engineer designs and oversees construction projects. Using math and science concepts, they work to build projects such as homes, dams, transportation infrastructure, hospitals and other buildings. Engineers need to have a strong understanding of math to ensure their structures are safe and stable.
Engineers start their projects by creating sketches of the proposed structure and researching the potential costs of the project. They then move on to creating a more detailed design of the structure using precise specifications. After creating a plan, an engineer presents it to their employer before overseeing the construction process and providing feedback when needed.
4. Surveyor
National average salary: $64,463 per year
Primary duties: The primary responsibility of surveyors is to measure the boundary lines for land, water and air spaces. With these measurements, a surveyor creates a map of the space. They travel to these locations and confirm their measurements match those on record to ensure accuracy. Individuals, government agencies and private organizations use surveyors at the beginning of construction projects to ensure they build in the correct location. For example, an individual may hire a surveyor to determine the edge of their property when building a new home.
5. Researcher
National average salary: $71,210 per year
Primary duties: A researcher's primary responsibilities include gathering data, analyzing it and presenting their findings. Researchers don't conduct their experiments and instead research the results of others' experiments. Many organizations use researchers, such as government agencies, utility providers or environmental agencies, to gather more information before making decisions.
Researchers develop a project plan that outlines the detailed steps of how they plan to conduct their research and the timeline for completing the project. Then, they collect their data through various means, such as surveys, reading the results of experiments or conducting fieldwork. After collecting enough data, the researcher organizes and analyzes their findings before compiling everything in a final report to present to their employers.
6. Chemical scientist
National average salary: $77,501 per year
Primary duties: Chemical scientists, also sometimes known as chemists, study the composition of matter. One of the primary duties of a chemist is to plan and conduct research projects. The nature of these projects varies depending on where the chemist works. For example, a chemist working for a pharmaceutical company may study the effects of different chemical compounds.
During these research projects, a chemical scientist conducts tests and records the results. They then collect all the data generated through their research and organize it. They analyze the results of their research and present their findings. To conduct their research projects, chemists rely on laboratory equipment and technology.
7. Biologist
National average salary: $80,378 per year
Primary duties: Biologists study living organisms, such as animals and plants. They research and conduct experiments on living organisms to develop a better understanding of how they operate and relate to their environments. The major responsibilities of biologists include collecting samples, taking measurements and recording observations. Throughout their research, they keep detailed records for future study.
After completing their research, biologists present their findings to their employers or the public through publications or conferences. Biologists commonly work for private organizations, such as pharmaceutical companies or environmental consulting firms, along with public institutions like government agencies and universities.
8. Physicist
National average salary: $85,109 per year
Primary duties: Physicists research and conduct experiments related to the laws of the natural world. Common areas of study include space, energy, time and physical matter. Physicists develop theories and then create experiments to help them test their theories. After experimenting, physicists record the results and analyze data and present the results of their findings by giving presentations or publishing them in scientific journals.
To conduct these experiments, physicists rely on their knowledge of math and science concepts, along with scientific equipment and software. They often create proposals for their research to secure funding from private organizations or public institutions, which includes writing a proposal and determining the estimated costs of the research.
I hope you find this article helpful.